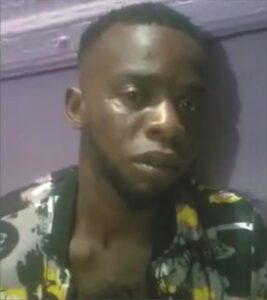 In spite the State Government effort and policemen's efforts fight to eradicate cultists menace in Lagos state, cases of cultists' brutal clashes keep rising. Like the police officers and vigilante men have told us, whenever they arrest and detain cultists, influential people connected to the culprits always come to seek their release and get them freed.
This happening has affected the justice process of charging and convicting the arrested criminals. Places like Igbogbo, Bayeku, Oreta and Ogijo are red spots of cultists' brutal killings almost on daily basis. Recently, the Onyabo vigilante group nabbed a brutal cultist, who have murdered seven people in two different attacks.
An unknown brutal killer known as Saidi Ladegan, popularly known as Sambo among his gang, was apprehended by the Onyabo vigilante in Ikorodu. He made some shocking but helpful revelations about his past activities.
Sambo, who confessed to have killed seven rival cultists, was remorseful and vowed to help fight against his evil gangs. When interviewed by the Onyabo leader in a video clip recorded on mobile phone, the murderer explained the roles he played in some of the recent attacks carried out in Bayeku-Ikorodu and in Oreta-Ajah areas of Lagos.
Sambo, who was a member of the Eiye confraternity, narrated how his faction invaded Bayeku through the sea and killed scores of rival gang in the community.
According to him, he killed two people on that singular attack. His first victim, Laja, was slayed with a gun while the second victim, Simple, was butchered with a hand-held axe. Some of the over twenty of his gang members who participated in the Bayeku conflict, died, while some of them escaped.
Listing names like Hasan, Jogo, Socio, Lati, Agaga, SP, Pampas, among his confederates, he explained that about four of them died in the attack.
When asked by the Onyabo leader for the role he played in the attack in Ajah, Sambo confessed that the attack carried out by his gang in Oreta community at Ajah was bloody. He said that he alone killed five rival gang members and many others played their roles as well. His godfather, Moshu, fled to Ogun after the attack and has not been sighted since then. The attack was led by one Taiye in Baiyeku, who made them travel over water to their point of unleashing mayhem at Oreta community in Ajah.
When asked how many guns his group have and how they get their guns, Sambo said they buy guns from one Tibani in Ibeju and they are currently in possession of five hand guns. He has a personal gun but hid it somewhere.
The recent joint raid by SARS and the Onyabo men in Ikorodu made them fled town temporarily; he ran to Ketu where he hid his gun and stayed for a week before returning to Ikorodu. He left the gun there and hope to go get it when the case died down, but now that he had been apprehended, he promised to reveal the location of the gun to the Onyabo leader.
Sambo was remorseful about his evil deeds, he pleaded for forgiveness and vowed to turn a new leaf. He said most time, they just go about incessant killings after a gang member is entangled in some meaningless brawl, and then they just invite them to do something crazy by attacking or retaliating a murder.
He couldn't really explain any genuine cause for their wanton killings. He advised young ones not to join cult groups as their life can be cut short any moment there is a senseless clash.
He pleaded to be pardoned and vowed to join the Onyabo vigilante group to help curb the cult menace in the community.