The great woman of substance, Folorunsho Alakija, made headlines when she was named the richest black woman in Africa and second richest black woman in the world after American Opera Winfrey.
The world celebrates Africa's billionaire Folorunsho Alakija in international magazines for being the indigenous female businesswoman who attained global fame as the richest black woman in the world.
The news of her shrewdness, focus and investment acumen shocked the world when she became the cynosure and reference point to women globally.
Folorunsho Alakija's global fame is a thing of delight to the people of Ikorodu, as she has carved a niche for herself worldwide.
However, she has distanced herself from her origin, Ikorodu for reasons unknown to the people of the division.
For reasons unknown, the famous female billionaire rarely show interest in Ikorodu affairs. Biblical anecdotes have shown that prophets have no honour in their home, but Alakija's case is a reverse, as she is loved and highly revered by the people of Ikorodu; yet, she wouldn't have anything to do with them.
She is a wonderful woman with high moral value and teaches people across the country to give to the needy and support public projects. Her foundation is spread across the continent and she has donated structural facilities to different noble causes in the country.
But the mystery behind her overlooking her Ikorodu hometown has kept many baffled. What could have gone wrong that the people of the division have not realised? Her cold attention towards Ikorodu Division became noticeable some years ago when her brother was conferred with chieftaincy title in Ikorodu.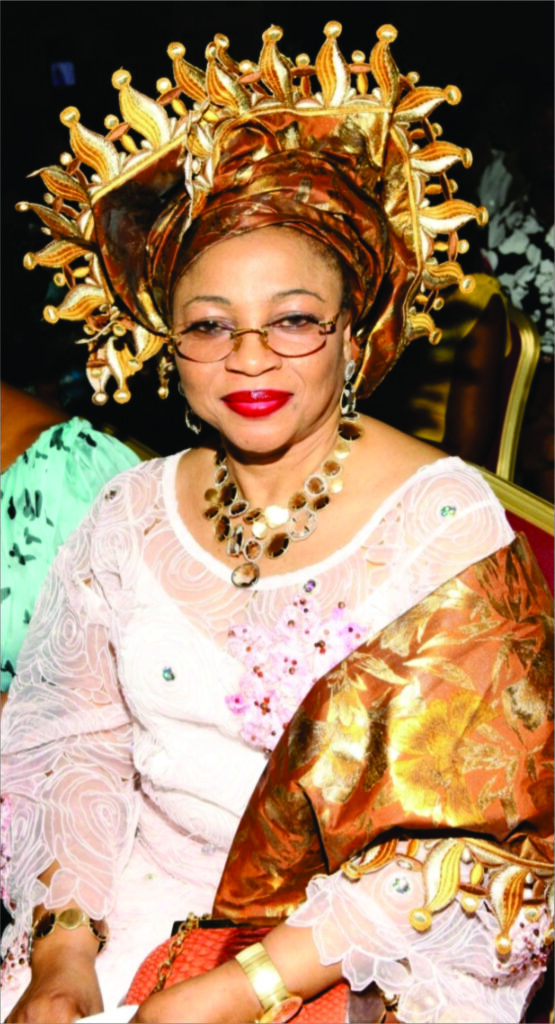 Before the chieftaincy installation by the incumbent Oba of Ikorodu, Alayeluwa, Oba Kabiru Shotobi, it was said that Folorunsho Alakija rarely visit her hometown and always isolate herself from communal activities.
During her brother's installation at the Oba's palace in Ikorodu, she made a rare appearance and her presence was received with much warmth and joy by the people.
It was thought that she would henceforth, open a new relationship with her people at home. His Royal Majesty, Oba Kabiru Shotobi urged her to make Ikorodu division a beneficiary of her numerous international projects. The Oba encouraged her to establish a Girl Academy in Ikorodu, to serve as a resource centre for child development in the society with the hope that she would do something close to what her international counterpart, Opera Winfrey did for South Africans, some years ago.
Few weeks, after she left Ikorodu, Oba Shotobi led nine other eminent Ikorodu indigenes on a visit to her in her multimillion naira office in Victoria Island. She received them with warmth and listened to the community projects proposed by the Oba, they pleaded with her once again to help build the Girl Academy in Ikorodu or support with the new royal palace construction which was ongoing on that time.
Since then, Alakija has not contacted her Oba neither did she support in any of the projects going on in the division.
Reliable sources confirmed to us that her brother, Kazeem Ogbara, who holds the title of Asoju-Oba of Ikorodu, is shielding people from meeting Folorunsho Alakija. Every time His Royal Majesty, Oba Shotobi proposes to pay her a courtesy visit, the brother would give excuses like her sister will be engaged with pressing business.
The Oba, who is making effort to attract illustrious sons and daughters of Ikorodu to make them work harmoniously, is only performing his duty as a traditional father to all descendants of Oga, worldwide.
During her 60th birthday celebration, Oba Shotobi attended the event with his royal entourage, all in the hope of uniting her with her roots. After all efforts to get audience with her proved abortive, His Royal Majesty could only wonder what was going on.
Publisher of Oriwu Sun newspaper, Monzor Olowosago, like many concerned indigenes, have continued to wonder why the billionaire woman has distanced herself from the community. Chief Monzor Olowosago cited top Ikorodu indigenes who are successful; yet, identified with their hometown.
"Look at Tokunbo Abiru, as highly placed as he is, he always come around town and makes attempt to bring beneficiary projects to the people of Ikorodu," Chief Monzor said.
Another popular Ikorodu daughter, Abike Dabiri Erewa, has attained the status of a big wig in Nigeria, yet she always frequent her Ikorodu home town and associate with the people. Recently, during the Covid-19 lockdown, Abike Dabiri did not only send palliatives to people at home, she facilitated medical supplies from the United States by some Ikorodu indigenes in the US. They sent quality health supplies to Igbogbo, Ikorodu and two other areas in the division.
During that time, Tokunbo Abiru, Managing Director of Polaris Bank doled out cash and food items to all the local councils in Ikorodu.
Also at that critical time, notable Ikorodu sons and daughters from abroad and those within the state, all shared food and relief items to the less privileged in Ikorodu. but nothing was officially heard from Folorunsho Alakija.
The big question is what has Ikorodu done to her? Why is Folorunsho Alakija distancing herself from her own home town, her very origin?
Chief Olowosago wonder why she is letting down her family name in Ikorodu.
"The Ogbara Family is very prominent and one of the most successful families in Ikorodu, she has done well for herself and now, she ought to be sowing seeds of development in Ikorodu so that her family name will be remembered in the future," he advised.
Olowosago believes that even if the community has at any time offended her late father, he warned his children not to interfere with the people of Ikorodu and that Alakija could find a place in her heart to forgive the people and open a new leaf with them.  Going by her projects in different communities, states and popular places, it is no doubt that she has the means and heart to help people, she should also extend the courtesy to her own people and bring home projects to support the people. In newspapers, during events and on her social media accounts, she always urges affluent people to give back to the society. Let charity begin at home.