It was a baptism of fire for the six council Chairmen in Ikorodu division on Friday, March 4, 2020, as they got into the black book of the Odofin of Ikorodu and Chairman, Multi – Choice Nigeria, High Chief Adewunmi Ogunsanya, SAN, who branded them as incompetent and people who have failed woefully.
His Royal Majesty, Oba Kabir Shotobi, the Ayangbure of Ikorodu and the Asiwaju Steve Anifowoshe, the Asiwaju of Ikorodu Kingdom and several others that spoke at the Business Community Breakfast with Ayangbure, equally echoed the same remarks.
The verbal attacks on the council helmsmen by the Odofin was coming on the heel of their absence at the Business Community Breakfast with the Ayangbure, organised by the Ikorodu-Oga Development Association (IKODASS).
The all-important event, which was held at the Ayangbure palace and the first of its kind, was aimed at charting a path for the economic development of Ikorodu.
Senator Adetokunbo Abiru, Chairman, Senate Committee on
Commerce & Industry and Senator representing Lagos East Senatorial District who chaired the event, led scores of other eminent guests which included government functionaries, eminent personalities, Captains of Industry, entrepreneurs, representatives of professional groups among others.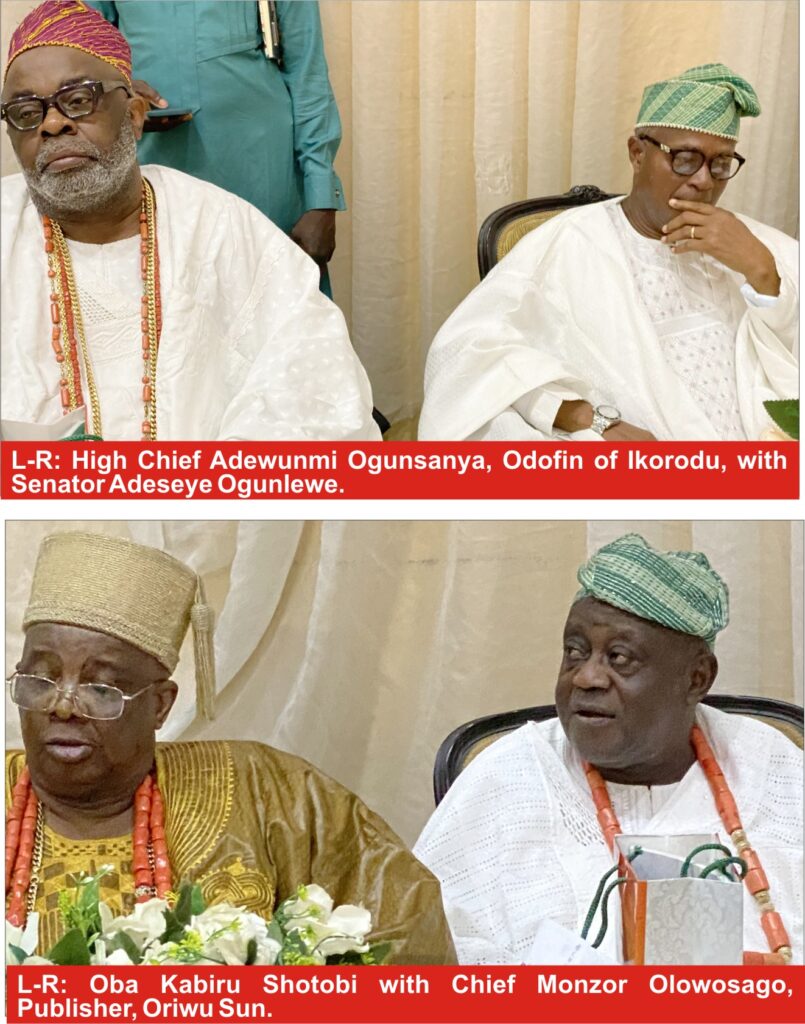 High Chief Adewunmi Ogunsanya, speaking at the event, said that it was a shame that the council chairmen were not present at an event where issues of business and development of Ikorodu were being discussed.
"Our Local Government Chairmen are totally incompetent. They have failed woefully", Odofin Ogunsanya said.
"When Kabiyesi expressed his concerns about the security challenges, we started the Ikorodu Peace Initiative Limited and we invited them (Council Chairmen) to meetings about three to four times. At a particular meeting, we were about two to three hours into the meeting when some of them came in and I asked them to leave", the no – nonsense senior lawyer recalled.
"Here we are today with Senator Abiru, Hon. Babajimi Benson who sent a representative and I am very sure that he would have been here if he is not on official assignment, as well as other stakeholders , yet, we do not have our chairmen here and we are discussing development in Ikorodu. It's a shame", Odofin of Ikorodu Kingdom lamented.
"Those that should be concerned about the development in Ikorodu are not here."

He charged the public to hold them accountable for the management of the funds that are in their care. "In Ikorodu, we are our own Local Government, we do our roads ourselves, we clear our drainages ourselves. We do everything ourselves.
"We should hold them accountable for what they are earning as taxes which they are collecting from business owners", he said.
Odofin Ogunsanya was not alone in his condemnation and criticism of the council Chairmen as the trio of Oba Kabir Shotobi, Ayangbure of Ikorodu, Chief Steve Anifowoshe, the Asiwaju of Ikorodu Kingdom and Mrs Bola Animashaun, the Proprietress of the Unique Blossom School, Ikorodu, also chided them for their absence at the gathering and performance.

Oba Shotobi said that he would campaign against the chairmen and urged their allies at the event to relay his message to them.
"Don't bother about the Council Chairmen, they are still coming back. I will campaign against them. Whoever knows them should go and tell them what l have just said".
Asiwaju Steve Anifowoshe, in his own remarks, also lamented the fact that none of the council chairmen deemed it necessary to attend such an important event.

"I am really surprised that our council Chairmen or their representatives are not here today. Yet, they will still come around to seek for votes when the time comes".
"This is not right at all".
Also, Mrs. Bola Animasaun, also described the council authorities as obstacles to business growth and development of Ikorodu, while narrating her personal experience with a particular council.
"Our council authorities are obstacles to business growth and development of Ikorodu.
"There was a time l was celebrating my birthday and l went to a school in one of the councils to inform the management that l want to do something for them but they told me that l have to go to the council. Immediately l heard that, l understood what they meant.
So, Kabiyesi, our councils are obstacles to the development of Ikorodu and they should be called to order sir".