Brilliant energetic, focused, well read, are some of the qualities to accurately describe the managing director of the Lagos State Waste Management Authority (LAWMA), Mr. Ibrahim Adejuwon Odumboni. The young dynamic LAWMA boss seems to know what a chief executive need to do to manage crucial aspects of a mega metropolis like Lagos. The London trained investment banker had only spent two and half years in Lagos as the chief executive of LAWMA, his revolutionary activities in the waste industry precedes him.
In this interview with publisher of Oriwu Sun, CHIEF MONZOR OLOWOSAGO and News Editor, RAMSON ACHEME, Mr. Ibrahim Odumboni speaks about his innovative products in LAWMA and his vision for a cleaner Lagos. The discussion reveals how the dynamic boss is working around the clock to make Lagos metropolis the cleanest city in Africa.
Q: What is the magic in solving Lagos waste problems?
A: the only magic is doing the right thing. I work with people to get the problems solved. Waste management is always evolving; the challenges are different in certain period of times. The waste issues of Lagos in the last two decades are not same as what we have today. In today's Lagos, inhabited by over twenty million people, over thirteen thousand metric tons of waste per day are generated. An individual generates at least 0.65kg waste per day. Having known all these, I have to work strategically to get the waste problems of Lagos solved. With capacity building and decentralization of staff, I manage the entire city waste. I divide Lagos into five operational district of LAWMA and monitor each coordinator for constant updates.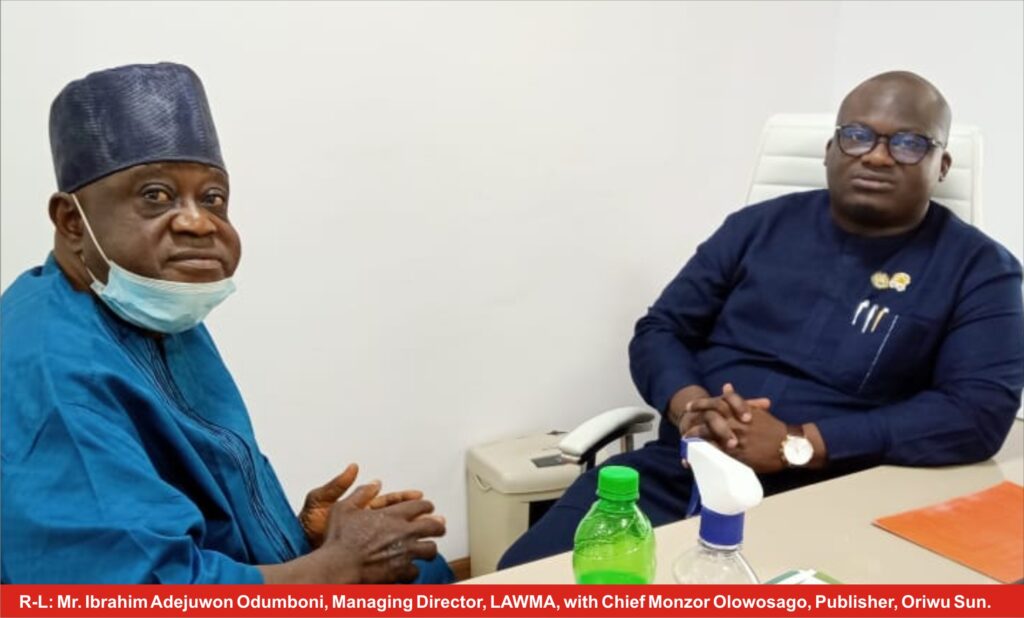 Q: How do you cope with the challenges?
A: The way out is applying local solutions to local problems. I adopted a style of decentralization of staff for efficiency and effectiveness. I employ staff based on their locality; for instance, I appoint supervisors and staff from Badagry to oversee the affairs of Badagry; staff from Ikorodu to supervise activities in that area; people from Ikotun to manage Ikotun waste affairs; those in Lekki are employed to work in that area. It is wrong to employ a staff from Badagry to work in Ikorodu; the road traffic will delay such staff from performing their duties on time.
Waste business requires urgent attention and quick response from the staff. It became easy for me to monitor every corner of Lagos metropolis by contacting the zonal heads and they swiftly respond to any call to attend to a certain identified area in Lagos. With the new structure in place, I can easily monitor event at Itamaga in Ikorodu and ask my staff in that area to clean any area we receive complain within two minutes.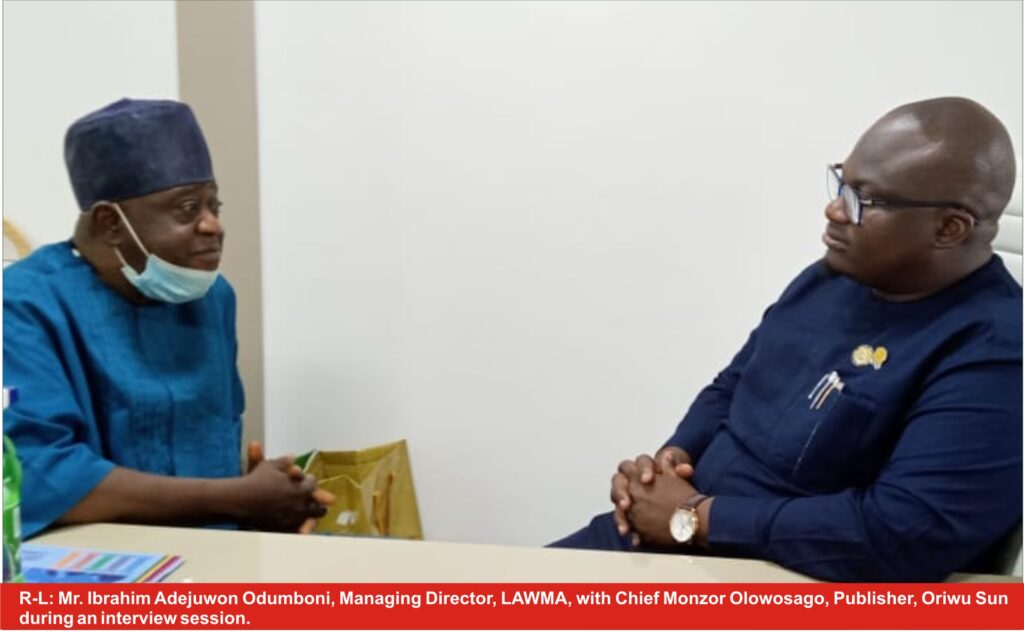 Q: There have been areas like Sabo-Ikorodu where the dirt still constitute public eyesore. What are you doing about that area?
A: The current nature of Sabo-Ikorodu makes it necessary for a two time daily job for my men. We have to clean the area two times everyday early morning and late night. Our main challenge in the area is the bad traffic situation in the Ikorodu area. After collecting wastes from the streets, the traffic complicates matters, as there is a long delay on the way.
Coming back after picking up dumps are hampered by traffic challenges. The dumpsite at Ewu-Elepe area became deteriorated due to lack of drainage facility in that section of Ikorodu and it is making things difficult for us to keep the place dirt free. Our challenges in that area are bordered around poor drainage and traffic. As for vehicles, we have enough; recently, we acquired 102 new compactor trucks. The lack of drainage in the Ewu-Elepe axis, couple with road traffic congestion makes our trucks finding it hard to
Q: How do you get to know so much about Lagos metropolis in a short time?
A: I have only lived in Lagos for two and half years. It all depends on the ability of the mind to grow. I have never lived in Lagos till about three years ago but I got to know a lot about the city in two years. I drive about town a lot. Everyday, I fuel my car and take a tour of town from Lekki to many parts of town. There are days I would drive from Lekki to Itoikin through Epe, Orimedu, Magbon, Abraham Adesanya and then turn back to Lekki. As early as five in the morning when people are sill asleep, I would drive from Lekki to Festac and Amuwo-Odofin and move through Anthony, all in efforts to make reconnaissance and gather enough first-hand situational analysis by myself.
With such fact at my fingertips, my field lieutenants can't lie to me about the situation of things on the streets of Lagos because I have already seen them for myself. I have over fourty five field lieutenants with whom I coordinate the Lagos wastes. I learnt waste management in LAWMA.
Q: How do you coordinate the Lagos waste affairs?
A: Lagos is a city with peculiar nature. By 4 a.m, Lagos has to be clean because people have started going about their daily activities. I sleep late and wake up as early as 4a.m in the morning. Sometimes I sleep 2 a.m. and wake up very early to resume work from where I stopped. I have to be on top the situation at critical time, which is almost round the clock.
Q: Do you have kept ladies?
A: No I don't do that. Those sorts of affairs are like garbage.
Q: How do you relax?
A: I am not an idle person. I still engage in professional courses when I am not doing LAWMA job. I am constantly improving my knowledge daily. To help me balance my activities, I make friends within LAWMA. The job requires people's skills, so I had to meet people everyday.
Q: How did the Lagos state government discover your potentials to head LAWMA?
A: Asiwaju sourced for me; that is how I came to work at this capacity in Lagos. I didn't know anyone in Lagos prior to that and I live with my family in the UK. Asiwaju Bola Ahmed Tinubu is good at sourcing for competent hands. A lot of people know Asiwaju in different ways. For me, I know him to be a great mentor; he grooms people and allows you make mistakes, then corrects you. He doesn't discriminate against anyone.
Q: Is there any point you ever feel like quitting the job after frustration and provocations?
A: Every job has its challenges. I have to be focused. I relate well with elderly people and ensure that our relationship is not affected negatively. Regardless of how relations with people are, I remain focused on my primary role – keeping Lagos clean. I work and live LAWMA. We have brought in many innovative ideas into the agency. We design our own trucks in this company. I remain focused regardless of the challenges.
Q: What is your favourite food?
A: My favourite food is beans. I have eaten a lot of beans in my life.
Q: How will you describe Governor Sanwo-Olu?
A: For me, Governor Sanwo-Olu is a kindhearted person. Some people will give you job and tie your hands; the Governor entrusted the entire Lagos hygiene to me without even knowing me before hand. Asiwaju mentors and coaches me; I make mistakes everyday and he is constantly guiding me to bring the best out of me. Governor Sanwo-Olu is a kindhearted man with good listening ears and magnanimous.
Leading Lagos is a tough job; the governor has times hundred of my responsibilities and has a lot to look into in a day. Working with millions of people in Lagos is a daunting task as a lot of people have no idea of how to run the city. Everybody feels they can run the affairs of my office but when subjected to reality, things are different from their wild imagination. Reality is different from fairy tale. The Governor faces such situation all the time.
Q: What is your message to Lagosians?
A: Lagosians, do the right thing at the right time. Ensure you have the appropriate bins to collect your waste and avoid indiscriminate dumping of refuse. Stop dumping your wastes into drainages and don't give them to the cart pushers, who dump them in the wrong places. One of my major innovations here in LAWMA is creating enlightenment for the people of Lagos and I have targeted the young ones. We have LAWMA academy for teaching people about waste management, the first in Africa to be so established. In the academy, we accommodate from ages 3 and above to orientate the people from early age.
Q: What is your strategy in achieving these campaign?
A: When I came here, I knew nothing of waste management but as I progressed, people management and waste management became easier. Dumping wastes properly begins with changing people's perception. We have partnered with schools in Lagos to incorporate waste management into class curriculum. The schools now dedicate/devote 10 minutes in teaching the pupils about waste management. We have partnered with institutions and universities to help spread the campaign against indiscriminate handling of wastes.
There are professors from Lagos State University, University of Lagos and two universities in the UK, who are supporting us in the campaign. I have consulted for the Imo State government and helped them build a waste structure; I have also worked with governments in Sierra Leone, Congo and other countries for same job. We are building a structure that will outlive governments and serve the society. Today, we have certified LAWMA programmes backed by foreign and Nigerian universities.
Q: What is your happiest day in life?
A: That would be when I had my first son. I had this feeling that I became a father. There is a great feeling seeing your first child.
Q: If you are not here, what would you be doing?
A: I have life after work. I need a busy job to keep me busy and this job is giving me busy schedules. If I have any other job that is less busy than what I am doing here I will be restless. I can't sit down somewhere and not add value to myself. So, if I am not here, I will be running more developmental courses in universities. Even with my busy schedules here, I still find time to run different programmes.
Q: You seem to understand Bola Ahmed Tinubu well; tell us more about Asiwaju?
A: Asiwaju Bola Ahmed Tinubu is a selfless man and a nationalist. Asiwaju is the first person, who will meet you for the first time and never ask where you're from and I am emulating that principle. When I returned from England few years ago, I discovered that wherever you go in Nigeria, people are apt to ask you where you are from.
Asiwaju is a nationalist who will not know your parents and never expect anything in return from you, yet offer help. I owe my coming back to Nigeria to Asiwaju. He didn't know my father or mother and never knew me from Adam. He has done so to many others. He is a youth at heart. I define a youth, as someone with infinite energy Asiwaju is a youth. Someone who is not a youth only thinks of what to save for himself. But Asiwaju is not thinking of the moment; he represents freedom and posses infinite energy to make things work. If you define youth by the parameters I outlined, you will see that Asiwaju is a youth and hundred percent Nigerian. Nigeria needs a man with Asiwaju's VIBE, energy and principles.
Nigeria needs a selfless man, not so godly, dynamic like Asiwaju. The Nigerian youth can solve our problems. We have to appeal to the elders to help us grow by allowing us to earn from our mistakes and improve. When the elders say the youths will make mistake, they must see that we will learn from our mistakes and grow.
Men like General Gowon, Buhari, Obasanjo and others ruled in their prime as youths. I believe that a 25 year old can do my job with the right frame of mind.
Q: Where do you see yourself in the near future?
A: I grow extensively. I will do something bigger than where I am right now, my mind is social. I relish on challenges.
Q: How do you relate with your staff at the LAWMA?
A: My staff is like family; we fight and continue with our job. I don't keep malice; we may quarrel but we resolve our differences and continue working. There are moments I sweep the streets of Lagos with broom. During the #EndSARS protest, with some of my colleagues, I swept the tollgate. There are many other occasion I swept streets. What I cant' do, I cannot send someone else to do.
Q: What advice do you have for the youths?
A: The youths should ask for opportunities and not wait till they give them money. They should learn to do the right thing and imbibe responsible characters. The youths should live by example and prove to the older generation that we are competent. For example, I can't afford to disappoint the Lagos State Governor for entrusting this office to my care nor can I afford to disappoint Asiwaju. If I messed up, I would be giving the youths a bad reputation. I can't afford to do that. They should ask for opportunities and work hard to defend their positions. If you misuse an opportunity, the elders will not give you another opportunity. It is so sad that many youths today get offers but are not ready to work; instead, they ask for money.