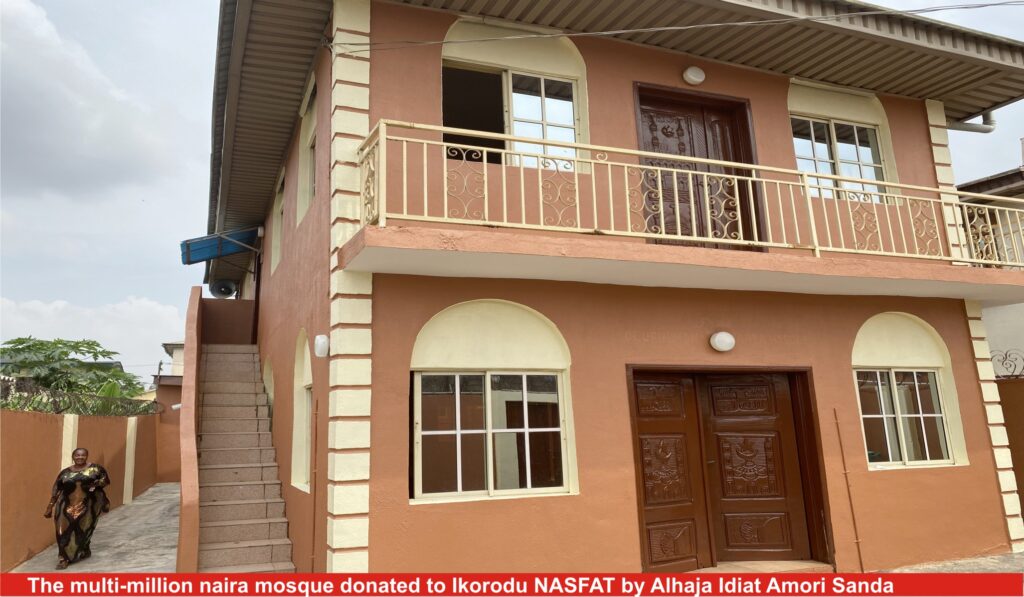 A popular wealthy business woman and a devout Muslim, who is a prominent member of the well-known Islamic organisation, Nasrul-Lahi-il- Fatihi Muslim Society (NASFAT), Ikorodu branch, Alhaja Idiat Amori Sanda, has, on Monday, November 16, 2020, donated a multi-million naira modern mosque built many years ago to NASFAT, Ikorodu branch.
Like others who have donated
mosques to Ikorodu NASFAT, she had handed the keys and documents of the mosque to the lslamic organisation to own it for life. This latest donation is the fourth mosque to be donated to Ikorodu NASFAT across the Ikorodu community. Alhaji and Alhaja Hassan donated a big mosque to Ikorodu NASFAT at Eyita, followed by ……………………………, who also donated another mosque to the lslamic organisation at Lasunwon, along Ikorodu-Shagamu road, while the third one was donated by Chief (Alhaji) Sikiru 'Ibuowo' Ogunneye, at Awolowo Road, Oke Ota-Ona, Ikorodu.
The newly donated mosque is located beside another multi-million naira building donated by the late Ikorodu wealthy man, Alhaji Musediku Alogba, to NASFAT (National) to be used as mosque but which one of his wives, Dupe, refused to vacate since three years ago despite the fact that other wives as well as children and family members of the deceased have long agreed that the building should be handed over to the Islamic organisation. The woman initially agreed to move out of the building after six months when she was approached by the executives of the Ikorodu NASFAT but she has since reneged on that agreement and has continued to prevent the Islamic organisation from taking over the building as instructed by her late husband.
Meanwhile, it was encomium galore for Alhaja Sanda at the Asalatu session held by the Ikorodu NASFAT at its Secretariat mosque at Akasolori, along Ikorodu-Itoikin Expressway, Ikorodu, on Sunday, November 22, 2020, as the management and members of the branch expressed their profound appreciation to her for donating the mosque to Ikorodu NASFAT for life. A marathon prayer session, led by the branch's Missioner, was held in honour of Alhaja Idiat Amori Sanda to appreciate her gesture. During the prayer, all the members of the branch present at the Asalatul rose to their feet and pointed their fingers to her to offer prayers for her as several powerful surahs were being read from the Holy Quran to seek Allah's protection, mercy, blessings as well as good health and prosperity for her and her family.
Below are photographs of the official handling over of the keys and documents of the mosque to the executives of Ikorodu NASFAT, led by the Chairman, Alhaji Mikhail Longe, by Alhaja Sanda.