It was excitement and accolade galore on Thursday, October 14,2021, as the performing Senator representing the Lagos East Senatorial District, Senator Adetokunbo Mukhail Abiru, FCA, continued the steady fulfillment of his electioneering promises with the first of its kind presentation of bursary to a whopping 600 students across the 16 local governments in the District.
The distinguished Senator, since his election last year, has demonstrated genuine passion and interest in the welfare of his constituents as reflected in his various people oriented programmes and Bills and has achieved unprecedented feats in less than 10 months of his representation.
Yet, the presentation of the bursary award to such a large number of students, which has never been seen before, would, no doubt, further etch his name in the mind of his people.
The venue of the event ,which was the 500 Seater Auditorium, Lagos State Polytechnic, played host to an impressive attendance which included, top state government functionaries, federal and state lawmakers, traditional rulers and Chiefs, religious leaders, chieftains of the All Progressives Congress (APC), Council Chairmen, community people, academics and many others who had all come from the all the parts of the Lagos East Senatorial District and beyond to be part of the epoch making event.
Oriwu Sun gathered that Senator Abiru, in order to ensure that the bursary award achieve its intended impact of providing educational support for indigent but brilliant students across the 16 local councils in the Lagos East Senatorial District annual, had inaugurated an advisory board made up of fine experts saddled with the task of selecting qualified beneficiaries from the various tertiary institutions in the state.
For this year's edition, the sum of #50,000 naira was given to each of the beneficiaries who went through a rigorous process to be selected. Their bank accounts were credited right at the venue of the event, to the admiration of the guests who commended the federal lawmaker for being a promise keeper and for his sophisticated representation.
Meanwhile, Senator Abiru, while addressing the gathering, said that he would not relent in impacting lives of constituents of the Lagos East District.
He said that young people are at the core of his legislative agenda, adding that he would continue to champion initiatives that will positively impact their lives and prepare them for the opportunities in the current digital and knowledge economy.

"Barely two months ago, in this same auditorium, I delivered a goodwill message via a pre-recorded video to a large audience of youth in the Lagos East Senatorial District in commemoration of the 2021 International Youth Day.
"I want to reiterate like I espoused on that day that young people are at the core of our legislative agenda. The minimum we can do as leaders and in fidelity with our social contract with the esteemed constituents who majorly fall within this demography is to provide support for their dreams to have full and maximum expression"
"I want to let you know that I am passionate about ensuring 'greater good for greater number'.
"This mantra guides my philosophy and strategy in giving a lease of life to our people as much as is within my power. The tactics to drive home this strategy is encapsulated in the resonating and reassuring 'DOING GOOD' drive.
"One of the major agenda on my social contract with the good people of Lagos East Senatorial District is youth development for global readiness, Abiru stressed.
Speaking on his strategies, Abiru revealed that he was pushing multi-dimensional approaches to tackle socio-economic challenges confronting the youths and other members of his constituency.
"This, I have sought to achieve with multi-dimensional approaches, which include: collaborations; co-creations; funding; infrastructural interventions, capacity building; etc.
"It is a part of this that has given birth to the annual Senator Tokunbo Abiru Bursary endowment fund" to support and encourage our star students in their respective tertiary Institutions of learning- the reason we are all here today.
"The objective of this scheme is to promote higher qualitative education by supporting brilliant students but who have challenges funding their education in furtherance of their academic pursuit.
After his address, several dignitaries were invited to the rostrum to give their remarks about Abiru's gesture and they all commended him for his impactful representation and for taking a genuine interest in the future of the youths and welfare of the common people.
First to speak was the Governor of Lagos State, Mr Babajide Sanwo-Olu who was represented by his Special Adviser on Education, Mr Tokunbo Wahab.
The Governor commended the laudable initiative of the Ikorodu born Senator, describing it as a welcome development.
He also commended Abiru for investing in the development of human capacity of the youths, stating that, there was nothing more than investments in human capital.
He noted that Lagos East Senatorial District needs to catch up with the other part of the state in the area of educational development, stating that Abiru's bursary fund was timely.
He stated that the Lagos State Government has disbursed a whopping 427 million naira to 27,000 students as bursary awards and 493 million naira as scholarship for Lagos youths in the last one year.
He, therefore, commended Senator Abiru for blazing the trail by complimenting the state government efforts in building the capacity of Lagos youths, through his bursary award.
Similarly, the Speaker of the Lagos State House of Assembly, Rt Hon Mudashir Obasa, who was also represented at the event, commended Abiru for investing in a noble, legendary and phenomenal educational empowerment programme for the youth.


The Speaker was represented by Hon Okanlawon, Chairman House Committee on Education.
He said that, "Senator Abiru has done well for coming up with the initiative to help the young people in the institutions of learning in Lagos East. This is no surprise as his love and passion for the youths is not in doubt.
"Your efforts to expand the frontiers of education in Lagos State is a welcome Development. An educated society is an easier society to be managed and lead", he added.
He concluded that people or country that jokes with the education of its youths does so at its own peril.
Similarly, Iyinoluwa Aboyeji, a resource person and Director of Flutterwave and Andela, two major Nigeria's tech start-ups, commended Senator Abiru for embarking on the progressive methods of politics which is empowering young people intellectually.
He noted that Nigeria had been indexed on crude oil, until now when technology start-ups are beginning to take the centre stage.
He implored stakeholders of Lagos East Senatorial District to support Senator Abiru's progressive politics of youth empowerment, stating that, Infrastructure may decay, but intellectual empowerment was the only sustainable program.
Also, the newly appointed Vice Chancellor of Lagos State University, Professor Ibiyemi Olatunji-Bello, described Abiru's gesture as a rain support on the future of the beneficiaries, stating that the scholarship award would bring smiles on the faces of students facing educational challenges.
While stating that diligent students need all the support they desire to excel in life, he commended Abiru for providing such support and congratulated all the beneficiaries.

Also, Chief David Sumoni, Chairman, Governing Council, Lagos State University, Dr Nurudeen Olaleye, Rector, Lagos State Polytechnic (represented by Mr Olumide Metilelu), Prince Abiodun Ogunleye, Senator Adeseye Ogunlewe and Asiwaju Olorunfunmi Bashorun in their separate remarks equally praised Abiru for embarking on such a noble cause.
Earlier, the Chairman of the Tokunbo Abiru Bursary Advisory Board, Dr Abiodun Fatai – Abatan, in his opening remarks, described bursary scheme by Senator Abiru as the largest privately funded bursary award in the history of Lagos East Senatorial District.
He explained that the lawmaker is financing the higher education bursary with the sum of 30 million naira for 600 students annually at the value of #50,000 each spread across various tertiary institutions of learning in Lagos State.
Abatan explained that the Bursary Advisory Board was inaugurated in April, 2021, with the term of reference of shortlisting 320 indigent but brilliant students across the Lagos East Senatorial District studying in the State owned tertiary institutions in Lagos State.
According to him, 20 slots were allocated to each of councils in the District to make up for the 320 stated above.
While commending Abiru for writing his name in gold in the hearts and lives of the beneficiaries, Abatan said that the bursary scheme is geared towards a foundational basis and shared agenda for reconstructing the youths in the Senatorial District.
Some of the beneficiaries who spoke with our reporters also commended Senator Abiru for given out the scholarship award and prayed God gives him more grace to further impact on humanity.
Ahmed Taiwo, a 200 level student of Adeniran Ogunsanya College of Education, Ijanikin, Lagos State, expressed his joy over the law maker's gesture, stating that the money would come handy for them in their education since most of them are not from rich family.
Also, Ogundipe Godlight Oluwajuwon, a final year student of the Lagos State College of Technology, appreciated Abiru for the scholarship award and urged other politicians and wealthy individuals to emulate his exemplary gestures.
Another beneficiary, Rufiat Adewunmi, a 300 level student of the Lagos State University, said that the scholarship award came to her as surprise because she did expect it.
She also thanked the lawmaker for the gesture and prayed for God's continuous blessings and protection for him and his family.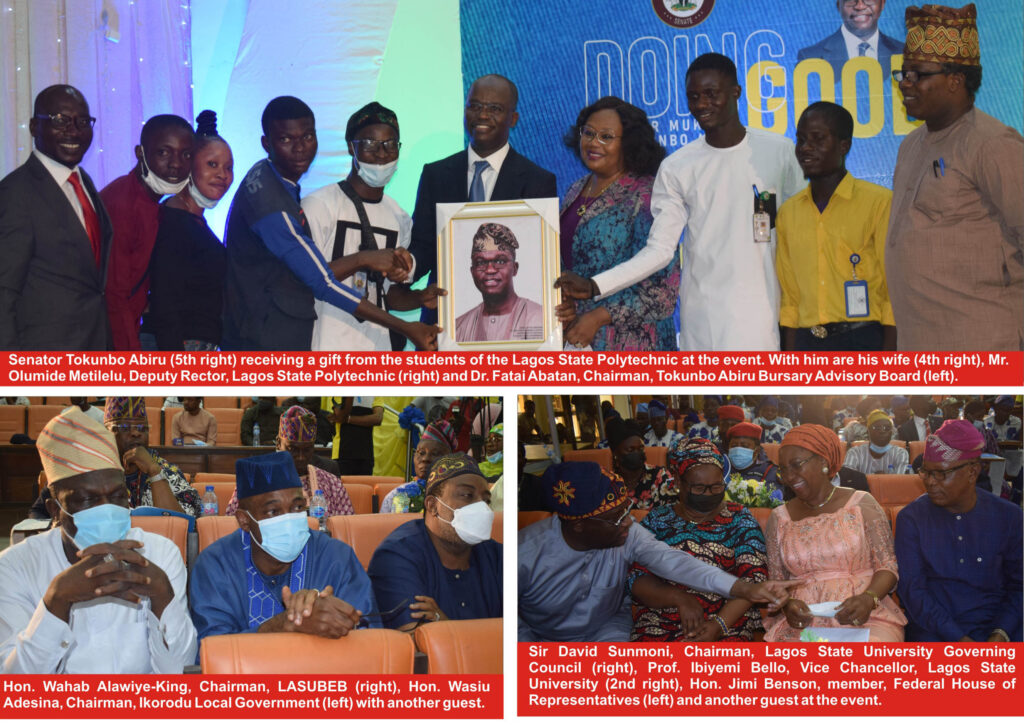 Curtain was drawn on the event with the presentation of a giant dummy cheque by Senator Abiru, supported by his wife and other guests, to a selected beneficiaries to mark the official presentation of the scholarship award, presentations of award to Abiru by students of the Lagos State Polytechnic and Micheal Otedola College of Primarry Education (MOCPED) in appreciation of his commitment to their education, and vote of thanks by Dr Saheed Ibikunle, Board member, Lagos State Universal Basic Education (LASUBEB).
Also at the historic event were Oba Ajibade Agoro, Ranodu of Imota, Oba Abdul Semiu Kasali, Adeboruwa of Igbogbo, Oba Richard Ogunsanya, Olubeshe of lbeshe, Oba Bashir Sotonwa, Sekumade of Ipakodo.
Hon Babajimi Benson, Hon Rotimi Agunsoye, Senator Anthony Adefuye, Chief (Mrs) Adebimpe Akinsola, Hon. Wasiu Adeshina, Chairman, lkorodu Local Government, Builder Olusesan Daini,Chairman, Igbogbo/Bayeku LCDA, Mr Bode Oyedele, Chairman, Tokunbo Abiru Campaign Team (TACT), Prince Jamiu Saka, Chief Monzor Olowosago, Publisher, Oriwu Sun, Sheikh Seifudeen Olowo-Oribi, Chief Imam, Ikorodu Central Mosque, Hon. Olusegun Olulade. Hon. Wahab Alawiye King, Chairman, LASUBEB.