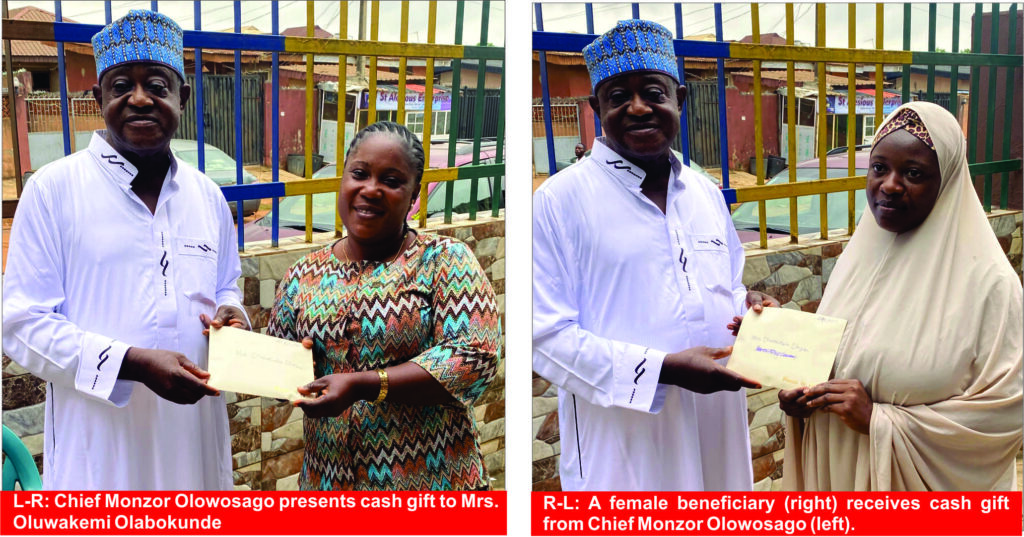 Chief Monzor Olowosago, publisher of Oriwu Sun, may have marked his 70th birthday in April 2021, but the grateful pathfinder of community journalism is assiduously touching lives and spreading love as part of his appreciation to God and his people.
The Publisher of the leading community newspaper believe strongly in service to his community, something he has been doing for over three decades and did not spare his time, wealth and intellect doing this for his people. Chief Monzor Olowosago has in the past, helped communities build standard classrooms, called attention to dilapidated structures and helped people fixe problems. This time, he empowered widows and men in needs to help alleviate poverty.
The event, which he did on a low key, witnessed the handing over of cash to beneficiaries in his office. Chief Monzor Olowosago said though, he might not be rich, God has favoured him in all ways and he is giving back to the society by empowering people with dire needs. Weeks before his birthday celebration, he had told his staff, friends, neighbours to identify and recommend women and men who genuinely need help.
Standing on this neutral ground, Monzor believed everyone in need should be given the access to financial support to excel, irrespective of their connections. He carefully examined all the indigent women and men recommended to him and asked them to expect feedback.
Many of the women and men were surprised to receive call from the Oriwu Sun Publisher, inviting them to come for the cash gifts.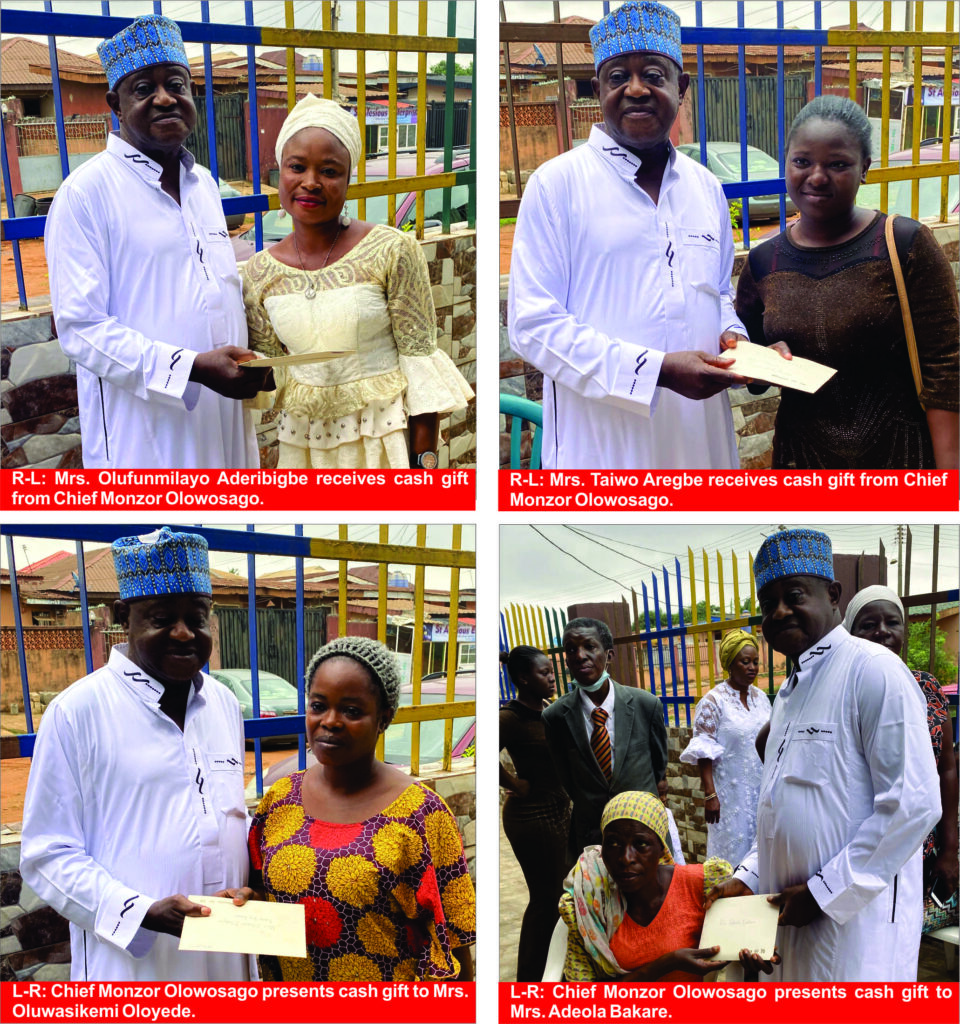 On Sunday morning of August 29, 2021, by 10 am on the dot, over a dozen widows and indigent men filed up at the Oriwu Sun building along Sabo – Itoikin road, Ikorodu, to receive the cash gifts. Chief Olowosago, who was casually dressed in his Islamic gown (Jalamia), welcomed his humble guests and apologized for before now. He explained the reason for the delay and made them understand that he wanted to be sure the right people, who truly need the funds, were reached and not just people who needed the cash to spend on luxuries. The Publisher told the beneficiaries that he had critically examined the list submitted to him and picked the folks with critical financial conditions.
Chief Monzor Olowosago, who is a practical man and a realist, made his Sunday guest realise that the fund he was about giving them was a seed, which they had to put into good use for their own empowerment. He said that the fund might be little but that, it was a seed that would bring bountiful harvest when invested judiciously.
Citing two examples, one, of a friend who gave his sister an initial capital of N50, 000 to start sales of tomatoes and pepper at Mile 12 perishable goods market. The woman, according to the Publisher, managed the business so well till she built two houses from the proceeds years after. The Publisher used his personal experience as the second example. He said that in 1985, he actually started Oriwu Sun Newspaper with an initial capital of N40, 000 (forty thousand naira) and that the newspaper house has flourished for over three and half decades.
"Little funds, well managed, always yield in success," Chief Olowosago enlightened his guests. He urged them to invest the fund on any business they are into and remain committed. He went on to quote the Chinese philosophy which says, 'When you give a man a fish, you have fed him for one day, but when you teach a man how to fish, you feed him for ever.'
Chief Monzor Olowosago handed cash of N50, 000 each, to six widows and a needy man who are into petty trade, N30, 000 (thirty thousand naira) each to four other indigent men and women and N40, 000 to another woman. Most of the beneficiaries of the free cash were surprised by his kind gestures towards them and they all prayed profusely for him. One of the women who sells cooked beans in the Federal Low Cost Housing Estate, Mrs. Oluwakemi Olubokunde, said she was grateful for the surprise support the Publisher has given her. She said that before she got closer to the Publisher, she heard malicious tales about him, but all that changed after the Publisher started giving her jobs to serve beans delicacies at family functions, during which she realised that Chief Monzor is a humanist who put people first.
Blessing Owoifera, a widow with three children, who sells pepper and tomato around Laketu-Lucky Fibre area, said she was very happy as the fifty thousand naira support fund would be invested into her petty trade.
The widow, whose husband was murdered by hoodlums two years ago, had been fending for her three kids all alone. She was emotional after receiving the cash from the publisher. Mr. Bamidele Elebute and Mr. Tajudeen Sanusi, both of whom were elderly men, who work as a servant to a private solicitor and engine oil seller respectively, were happy when Monzor handed them thirty (N30,000) thousand and fifty thousand naira (N50,000) cash respectively.
The two old men who had been facing accommodation challenges, said the cash would relieve them, as they would be able to pay their landlords.
After they left, some beneficiaries, who, were not there in the morning, arrived at the Oriwu Sun building complex. A widow, Mrs. Victoria Olubiyi who has a teenage son, arrived with her son. She didn't wait to hear what the Publisher would give her before she started praying profusely for him and his Oriwu Sun media house. The widow, who recited bible verses, declared so many blessings on Monzor for remembering widows, narrating that her son got admission to the University Of Lagos but she couldn't enroll him due to lack of fund. Mrs. Olubiyi said that with any help from Chief Monzor, her son would accept the university admission and register. Moved by her story, Chief Monzor handed fifty thousand naira cash to her in the presence of her son. They were overwhelmed and thanked the Publisher.
While his staff gathered around him in an interactive session, musing on how he started the Oriwu Sun, Chief Monzor told his curious staff that he actually started with an initial capital of N40, 000 (forty thousand naira) and had managed the business from a humble beginning. Reminiscing on some competitors who launched newspaper with millions of naira and crashed afterwards, the accomplished Publisher explained that the will, determination and astute management is what matters in business, not huge funds for business upstarts. He said he had no doubts that the beneficiaries would accomplish something for themselves if they do the right thing.
Monzor, who was sober after the crowd had left, said that he wished he could be affording the fund to empower struggling families every year. He said he knew many affluent people in the community who have excess wealth but would not bother to empower the teaming indigent families in town.
He wished and prayed that these affluent men would realise the grace of Allah in their lives and make it their duty to help the poor.