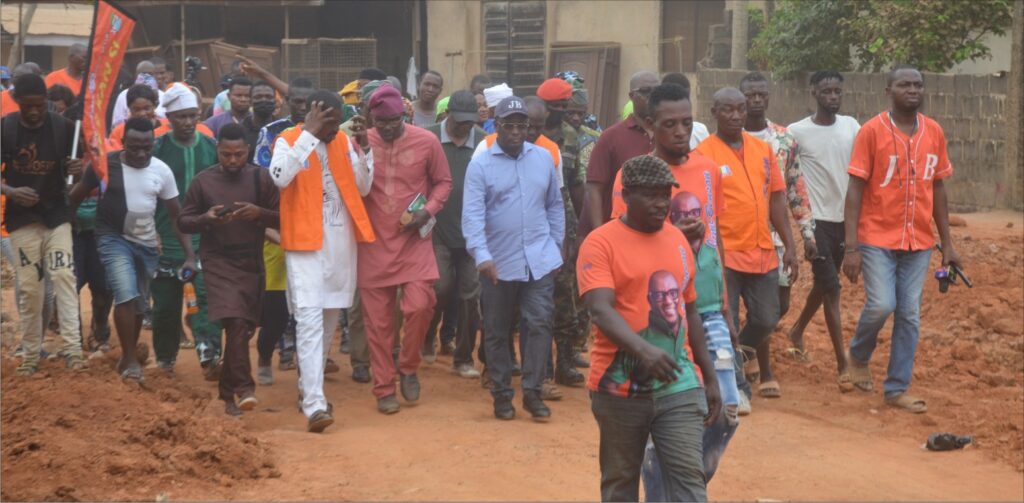 Few weeks after flagging off the construction of a network of roads in Majidun-Ogolonto communities in Ikorodu West Local Council Development Area (LCDA), the popular representative of the Ikorodu Federal Constituency in the Federal House of Assembly, Hon. Babajimi Benson, has continued his aggressive road construction as he flagged off the reconstruction of another 11 access roads to the amazement of the Eyita residents.
The reconstruction of the roads, which will link Ikorodu-Shagamu road with Lagos Road and make many inner streets within the Agbala and Eyita communities motorable, was facilitated by the lawmaker in furtherance of his commitment to improve roads across the division and give a new lease of life to the residents.
The massive project will start from Oshin Ladega Street beside General Hospital, Ikorodu annex, popularly called Agbala, down to Amudat Jokomba Street, Olokunola Street, Oladunjoye Oriola street (better food) and connect Eyita in Ikorodu Local Government where it will also link Oguntuga Street, Igbeyin Adun Street, Olaore Oshikoya Street, Ayodele Ayeni Street, Giwa Efugbotu, Adeyiga Street (Benson estate) through to Munirat Aleje and Benson bus stop on the Lagos–Ikorodu road.

The reconstruction of the access roads, which cut across the Ikorodu Local Government and Ikorodu North Local Council Development Area (LCDA), has already kicked-off as tractors and construction workers were seen working on the site during the flag off ceremony which was held at Oladunjoye Oriola Street, off Ikorodu Shagamu road, Better Food junction, Agbala, Ikorodu, on Saturday, February 26, 2022.
According to the Site Engineer in charge of the project, Mr. Mohammed Oga, the road project would be delivered within four months.
In the last two years, Hon. Benson, who is the Chairman, House Committee on Defense, has facilitated and completed 1.2 kilometre Igbe/Oreyo road in Igbogbo/Bayeku LCDA, five link roads at Sabo/Shamsu-el-deen area and three link roads behind the Ikorodu Divisional Police Headquarters/Ijomu in Ikorodu Local Government.
Meanwhile, Hon. Benson, speaking briefly at the flag-off ceremony, said that the roads, when completed, will enhance development in the affected areas.
"We are going to do 11 roads that will connect Ikorodu North LCDA and Ikorodu Local Government", he announced to the amazement of leaders of his party and residents.
"We are going to complete the roads in four months and we are going to also provide streetlights on them. When completed, the roads will bring developments to these areas".
He also informed the gathering that work is progressing as expected on the Odubote /Ajanaku/Aiyegbajeje network of roads at Ogolonto and Majidun communities in Ikorodu West LCDA and that the March date for the completion of the roads remains unchanged.
Speaking briefly earlier, Prince Abiodun Ogunleye, former Deputy Governor, Lagos State and chieftain of the Governor Advisory Council (GAC), described Benson's performance as excellent and added that he has raised the bar of good governance.
Prince Adekunle Oduborisha, President, Oriwu Club, recalled that Rep. Benson started intervening and ensuring that access roads in Ikorodu division are motorable, in his area at Igbe area in Igbogbo/Bayeku LCDA.
He said that the road constructed in his area by the young lawmaker has enhanced socio – economic developments in Igbe and Ikorodu division in general and expressed confidence that the reconstruction of the 11 roads would further enhance development in the division.
Oduborisha also commended the lawmaker for quality representation.
In the same vein, Hon. Wasiu Adeshina, Chairman, Ikorodu LG, Builder Adeola Banjo, Chairman, Ikorodu North LCDA, Chieftains of the Community Development Associations and Community Development Committees (CDAs/CDCs), land owning families and residents who took turns to give brief remarks at the ceremony, all commended Hon. Benson for his quality representation.
Also present at the flag off ceremony were Hon. Sulaimon Kazeem Olanrewaju, Chairman, Ikorodu West LCDA, Otunba Olasunkanmi Tijani, former Chairman, Ikorodu North LCDA, Prince Kunle Ogunbela, pioneer Chairman, Ikorodu North LCDA, Hon. Mathew Adesanya, former Secretary to Ikorodu North LCDA, Chief Mahmud, Baale Eyita among others.