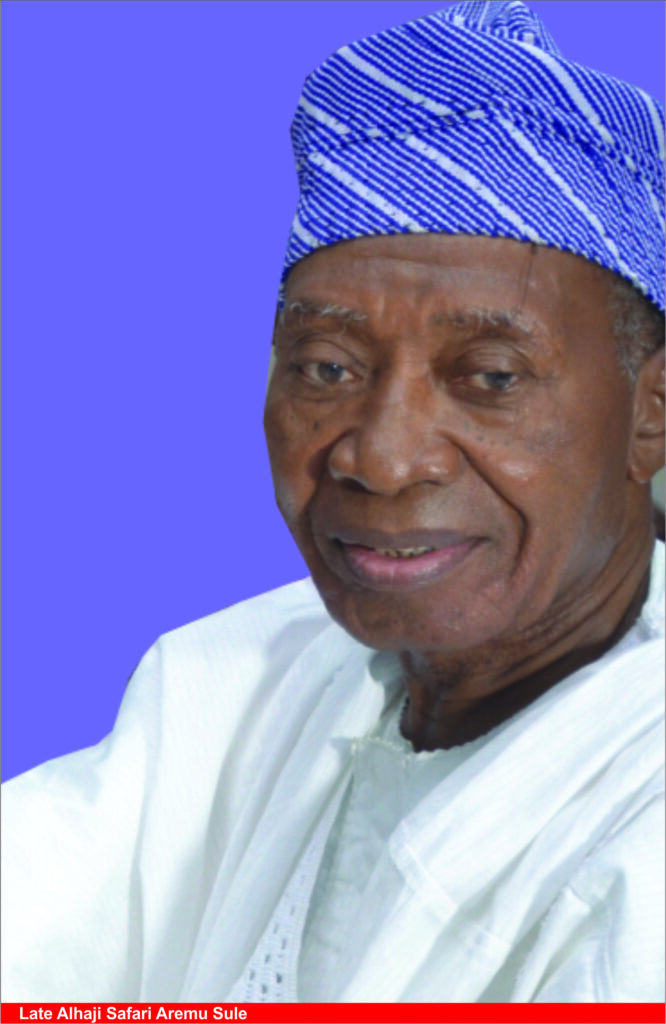 When the news of Alhaji Aremu Sule demise got to me recently, I was devastated. When I read the news on the Oriwu Club Whatsapp platform, I quickly contacted a close family member, Alhaji T. S. Animasaun who confirmed the death.
Alhaji Sule is one man I loved so much. Though, he was old, I never thought he would die soon. With his good health, agile look, he didn't give me a sign he would die soon. His death shocked me because I never knew he was on sickbed for months. No one told me about his health situation until I received the sad news of his death.
I didn't know Alhaji Sule from Adam until I returned from abroad in late September 1977. Then, I was sitting in front of our family house at Oriwu road with my late dad when Alhaji Sule stopped by to greet my dad. My dad asked me to prostrate for him because he was responsible for transferring foreign exchange to me and my late brother, Abayomi, in Germany. He was then a senior bank executive at the Central Bank of Nigeria.
Though, an illiterate, my late father, Lamidi Osho Olowosago, was so appreciative of the role Alhaji Aremu Safari Sule played in helping him transfer myself and my late brother, Abayomi's school fees and allowances to Germany at a time foreign exchange was difficult to send abroad. It was since then Alhaji Aremu Sule picked interest in me , and every time we met at public functions, as a revered elderly man, I always thank him and show appreciation for his support to ensure I had good time living abroad, in Munich Germany and in the United Kingdom.
Our friendship blossomed when I joined Oriwu Club in the 90s, where we met regularly, throw banters and he would always give me advice. Like many people had written about him, Alhaji Aremu Sule was an embodiment of culture, not only in Ikorodu division, but in Lagos State. Ask him of any traditional festivals in Ikorodu, and he would be apt in giving background information.
Again, for those who know him when he was alive, Alhaji Sule, a former director of Central Bank of Nigeria, was a very religious man who had the fear of God and for fourten years, he was the Chairman of Anwarul Islam Movement of Nigeria, where he helped grow the mission for more than a decade. He left indelible marks in the movement in Ikorodu and Nigeria.
Alhaji Sule was highly honoured everywhere he served, both in the family, religious circles and in his club, Oriwu Club where he was past president.
He was not only an upright man, he had wisdom, very kind and not corrupt.
When the news of his death reached many, it was a shocking news to some of us who are Muslims. Alhaji Sule's death on Arafat day confirmed that as a religious man, Allah will provide for him a beautiful place in Aljanah Fridaos (life in paradise).
My dad will be greatly missed not only by me but by many close associates for his wisdom and generosity and also for his kindness to all of us.
Before his death, he would visit my office on several occasions to play with me for hours. He has shown me fatherly love every time he visited my office. During these visits, he would give me advice on life matters, pray for me and confirm to me his love for my newspaper, Oriwu Sun.
I would say I am highly honoured to have met this man in my life, he impacted on me greatly and I shall continue to pray for him in his grave. May Allah forgive his sins and grant his soul peaceful rest in his grave and provide for him a beautiful place in Aljanah Fridaos.
Alhaji Aremu Sule, rest in peace.
I will miss you greatly.