The Lagos Sector Commander of the Federal Road Safety Commission (FRSC), Corp Commander Olusegun Ogungbemide, has appealed for to the Ayangbure of Ikorodu, Oba Kabir Shotobi, and his Chiefs to assist the Commision in sensitising residents of Ikorodu on the need to drive safely and limit their speed level, particularly during the coming yuletide period.
He made this appeal when he and his team paid the monarch a courtesy visit in his palace on Monday, October 12, 2020.
He equally sought more support for the Commission while also commending the Ayanngbure for the support given to his men in Ikorodu.
On the ground to support Oba Shotobi in receiving the new FRSC Commander and his team were the Baales led by Chief M.J. Odusoga, Baale Omitoro and Chairman, Ikorodu Council of Baales.
Corp Ogungbemide, while speaking during the visit, stated that the traffic challenges in the State has made his three months stay appeared as if he has been in the state for three years.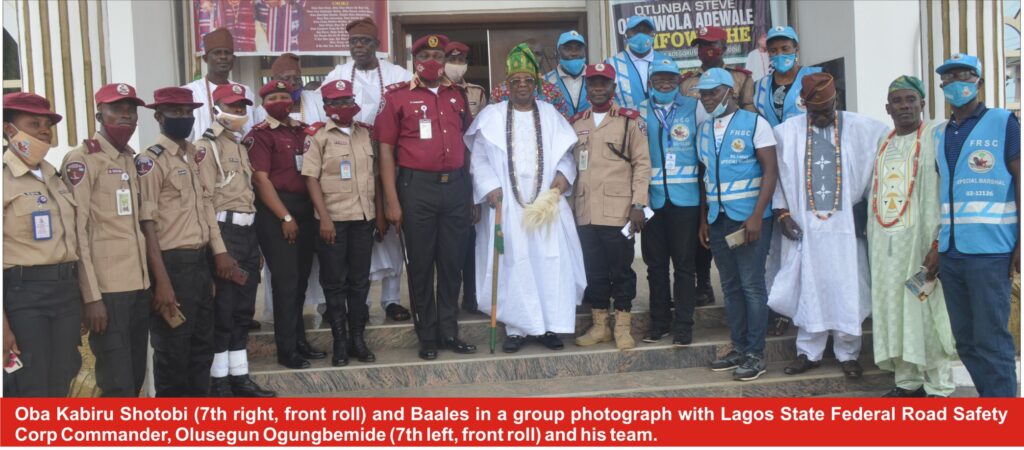 'It is a great joy to be before you sir. I am highly honoured that we are here with with you despite your tight schedule.
"I arrived in Lagos in June when I took over the mantle of leadership from my predecessor. I came in a critical moment when we had all kinds of crises along the Lagos – Ibadan expressway", he said.
"During that period, tankers and containers started getting involved in crises that claimed lives.
"While we were still managing that, the partial closure of Third Mainland Bridge, that on a daily basis takes more than 70, 000 vehicles to the Mainland, was announced.
"So, the three months that I have spent is just like spending three years because of the burden of activities that we have been managing. But God has been helping us", he added.
"Anytime, I come into any city, my first point of call is usually palaces to receive royal blessings.
"We have been working in the past three months dealing with series of crises which have kept us busy, but today, we deemed it necessary to come around to pay our homage to our father.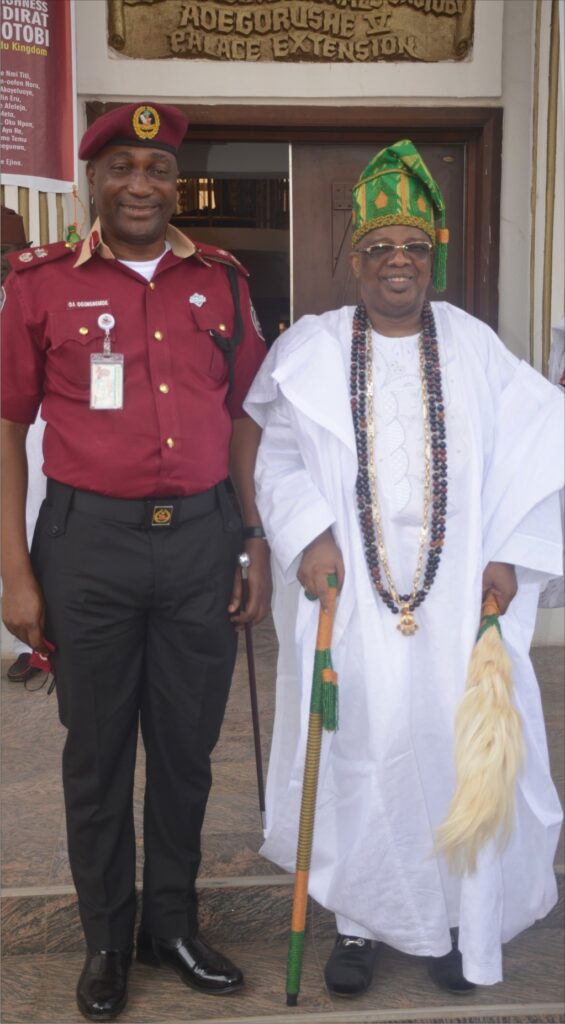 "I realize that the crises will always be there and as a result, it is better we put it aside for a while and come here to receive royal blessings and more strength to carry on with our job".
While stating that accidents cannot be stopped from happening, the Lagos FRSC Sector Commander added that FRSC officials are doing their best to prevent and limit accidents on the road.
He thanked the royal father for making Ikorodu safe for his men while also asking for further assistance in terms of education and sensitization of the residents regarding safety on roads.
"What we are trying to do is to reduce accidents that would lead to death. That is the effort that we are trying to put in place.
"What we need is to build our capacity as enforcers and part of the reason we are here today is to receive royal blessings. That is why I came to Ikorodu. We are also here to thank you for all your efforts that you have offered to make this town safer for all our staff".
The Sector Commander, who narrated an unfortunate experience that involved his colleagues in a town that they were posted to and the intervention of the Ayangbure Palace in resolving a recent event that involved the FRSC Unit in Ikorodu, said that the Commission is always grateful to any community that accept them and make their work easy.
"If we come to a community and we are accepted and our men feel comfortable, we have to give kudos to the palace and the community.
"All that the Unit Commander has been telling me is that you have been cooperative and all the chiefs and Baales have been cooperating with them too.
"We thank you sir. We are here to say that you are loved sir and we shall continue to honour your sir.
"We are thankful sir. But we would have had more of our staff in Ikorodu but for challenges that we are facing regarding office space.
He, therefore, solicited for office space for his men while also stating that the commision has the capacity to send more men to Ikorodu but for lack of where to place them.
"The Ikorodu Roundabout traffic has always been like that and while coming here today, we still found it difficult to get to the palace and this is an indication that we still have more work to do.
"We have men to send to Ikorodu but for lack of office space. We are managing with the Ministry of Works (in Ikorodu) and we wouldn't want a situation whereby we will send our men here and they won't be comfortable", he said.
"If it is in the capacity of the Royal Majesty to provide us with land where our office can be built or if there is a place that can be allocated to FRSC as office, I am ready to send more men here to assist other agencies to manage traffic situations in Ikorodu. This I can guarantee your Royal Majesty", Corp Ogungbemide solicited.
He also appealed to Kabiyesi and his chiefs to assist in sensitizing the people on the need to maintain safety while driving non the road and avoid being in hurry to achieve anything in the 'Ember' months, a situation he said had led to many accidents that resulted in deaths.
"Again sir, we are entering 'Ember' months, where people think that they can achieve what they could not achieve since January and as a result, are in hurry to achieve their set goals between now and December, and this situation had caused many unfortunate accidents that had led to the death of many people while many others sustained varying degrees of injuries.
"We plead that you, as our royal father, should become our Ambassador and help to sensitise people that are coming to the palace about these dangers. We believe that your words have more impact than what we can be able to achieve.
"This is important because since I have assumed duty as the sector Commander, I know the number of people that have died and got injured through accidents in the state".
Commander Olusegun Ogungbemide stated that the present administration in Lagos State has started cooperating and providing support for the FRSC men unlike the previous regimes.
Oba Shotobi, while welcoming the Sector Commander and his men to his palace, assured them of the support of the Ayangbure Palace towards helping the Commission to propagate its sensitization messages.
He assured his august visitors that Baales in their monthly meetings will also share the information amongst themselves and passed it to their subjects in their respective communities.
"We are very much aware of the happenings on our roads.
On our part, we will continue to appease the gods. In this part, we don't play with our traditions and we stage our festivals and make sacrifices to gods for cleansing and for divine intervention.
"We pray to the gods for protection of drivers and passengers and everyone in the community. We shall continue to do that", he assured.
"Our palace is also available to your commission to make use of for public lecture. Your men can invite residents, unions – both National Union of Road Transport Workers (NURTW) and Road Transport Employers Association of Nigeria (RTEAN), here to let them know the importance of being in control of the steering while driving on the road".
The royal father emphasized the importance of constant engagements with drivers and trying to let them know that they do not have to abuse drugs before driving.
"We have to continue to do this so as to let drivers know the importance of safeguarding passengers that entrusted their lives in our care and also for the passengers to know that they must monitor whoever is driving them and stop them from drinking before driving them.
"We had public lecture once in this regard but it has to be a routine affairs.
"It is also important for people to know that it is their daily task to know the conditions of their vehicles before setting out. They must gauge their tyres, break, radiator and other parts of their vehicles. It is also necessary that they must have periodical checks of their vehicles", Oba Shotobi said.
"Of course, your officers have been doing well. Each time that I see them, they are very matured and are dedicated to their job and are not found wanting unlike some other arm of government security agencies".
Also, Oba Shotobi stated that there is need for two flyover bridges at Ogolonto and Ikorodu garage roundabout to help in managing the perennial traffic situations that the town and road users have been encountering along Ikorodu – Lagos road over the years without an end in sight.
He informed his august visitors that the community has already made the flyovers part of its requests that will be included in the Ikorodu Sub Regional Master Plan.
"The problem at our roundabout is a peculiar one.
"We had a town hall meeting last week on the Ikorodu Sub–Regional Master Plan where we asked the government to ensure that the traffic problem at the Ikorodu roundabout is addressed in the Master plan and should also be budgeted for in next year's budget and they have agreed with us", the royal father stated.
"We have equally put forward to the government the construction of a flyover at the lkorodu roundabout in the next year's budget.
"We want a flyover at the Ogoloto junction and another one around the Ikorodu garage roundabout to Sabo market area. With this, those going to Itoikin road will not have to come to the Ikorodu roundabout as they will only have to ply the flyover", Oba Shotobi stated.
Among those in the entourage of the FRSC Lagos Commander were Corp O.K. Kareem, Commander FRSC Ikorodu Unit, SRC. Fashae, 2ic, Ikorodu, Coordinator of Special Marshal, Mr. Anabel and Mrs. Olabisi Sonusi, FRSC Public Relations Officer.