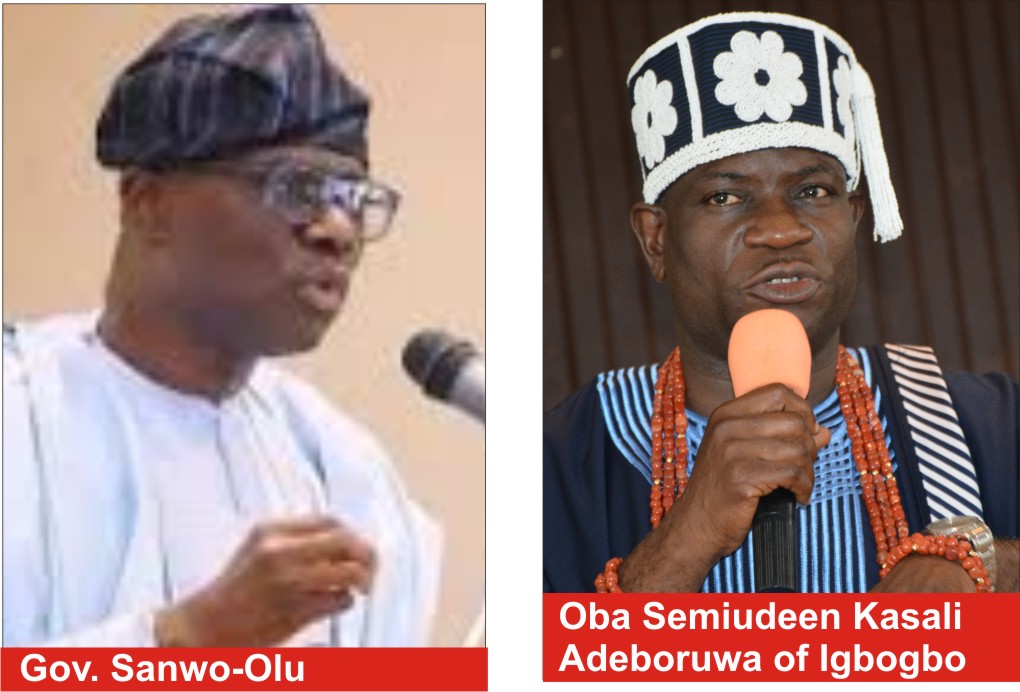 The Adeboruwa of Igbogbo, His Royal Majesty, Oba Semiudeen Orimadegun Kasali, has once again appealed to the Lagos State Government to ensure that compensation are paid to the victims of house demolition in Igbogbo.
He also pleaded with the government to ensure that the reconstruction and expansion of the Ipakodo – Igbogbo –Bola Tinubu – Igbe –Ijede road is completed in good time for the benefit of the residents of the community.
The revered Monarch made the appeal in an interview with Oriwu Sun shortly after the unveiling of the renovated office within the Adeboruwa palace by the Igbogbo Platinum Lions Club on Friday, August 14, 2020.
It would be recalled that the administration of Mr. Akinwunmi Ambode, in December 2018, demolished hundreds of houses in Igbogbo to create right of way for the expansion and reconstruction of the road, which will pass through Igbogbo township to link Ijede and other communities in the axis.
However, almost two years after the demolition, majority of the victims were reported to have not received compensation from the state Government while tangible progress is yet to be recorded on the road reconstruction.
Oba Kasali, while sp eaking on the issue, acknowledged the plan and burden, which those, whose houses were demolished for the road reconstruction, are going through and appealed to the government for the payment of the compensation.
"You can imagine the burden that the people have to go through in sacrificing their ancestral homes and having to live outside their inheritance for the road reconstruction and yet, the compensation they expected from the government is not forthcoming while the road for which they made the sacrifice is yet to be completed."
"We are in discussion with the State Government and we have continued to get their assurance that the road will not be abandoned. Mr. Governor has also promised that compensation will be paid to those whose houses were demolished for the right of way for the road construction and that the road will be given attention."
"So, in this wise, we will continue to appeal to them that as they are considering the progress of work on the road, they should also consider how to relief our people, particularly the victims of the house demolition," Oba Kasali pleaded.