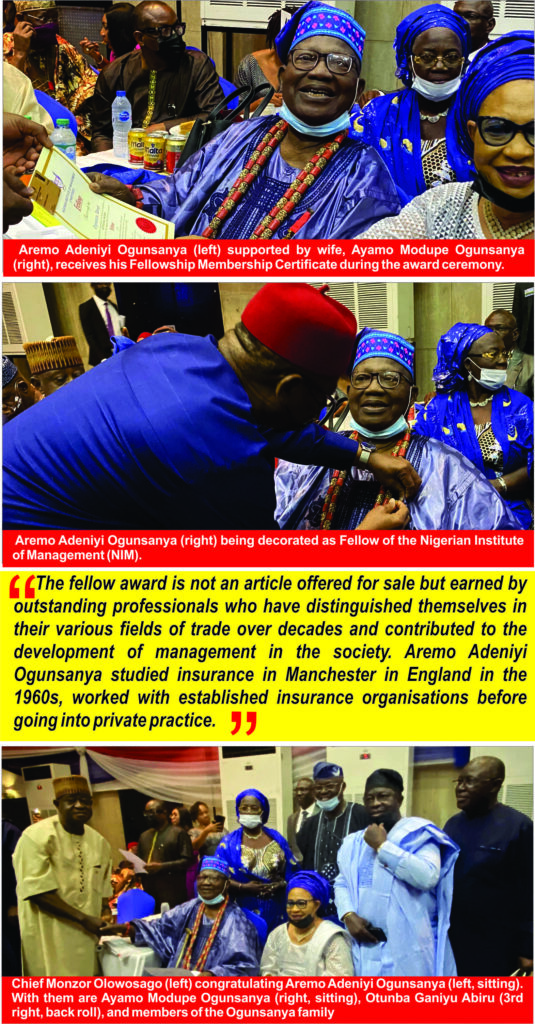 The retired insurance broker, Aremo Adiniyi Ogunsanya, made Ikorodu proud when he bagged the coveted and respected fellow award of the Nigerian Institute Of Management (NIM). The octogenarian made the people of Ikorodu proud after he was honourably inducted into the conclave of the fellows of the Nigerian institute of management at their 60th anniversary held on August 19, 2021, at the MUSON Centre, Lagos.
The event, titled 'NIM 2021 Awards, Fellows and Spouses' Day Luncheon', had many dignitaries from across Nigeria in attendance.
Alhaji Aremo Adeniyi Ogunsanya has set a new record by proving that professionals can continue to earn awards and qualifications even after retirement. The apex body of management in the country has recognized his excellent works as a notable insurance broker who has not only established flourishing brokerage firm but also attained success in the profession. His experience span through many years of working with firms like the Refuge Assurance Company (Federated Employers Insurance Association) Ltd, Oxford Street Manchester, England, between 1967 and 1971. Upon his return to Nigeria, he joined the Nigerian General Insurance Company Limited where he worked for six years before setting up his own insurance brokerage firm, the Oriwu Insurance Brokers Limited in 1988 and still exist till date.
The fellow award is not an article offered for sale but earned by outstanding professionals who have distinguished themselves in their various fields of trade over decades and contributed to the development of management in the society. Aremo Adeniyi Ogunsanya studied insurance in Manchester in England in the 1960s and worked with established insurance organisations before going into private practice.
For over three decades, Aremo Adeniyi has helped many organisations and individuals insured their properties. His exemplary leadership, management skills and professionalism have continued to impact on people years after he retired from active service.
During the celebration of the 60 years anniversary of the Nigerian Institute Of Management, on August 19, 2021, Aremo Adeniyi Ogunsanya was one of the one hundred and thirty prominent Nigerians honoured with the fellow award. The award category was segmented into three cadres; membership induction, membership upgrade and life fellowship membership. The last cadre admits only experienced members who are above 70 years old and was awarded to twelve people at the occasion.
The proud son and prince of Ikorodu, Aremo Adeniyi has proved once again that to retire does not mean one is tired.' He has actively engaged his mind on things that matter in the society by participating in traditional, professional, religious and academic-related matters in the society. He is from the Ogunsanya Family of Ikorodu and the Aremo of Ikorodu, a title bestowed on the leading/prominent son of a distinguished royal family line. He founded and sustained an insurance firm headquartered in Ikeja with branch in his Ikorodu hometown. With a high pedigree in Ikorodu and high educational qualifications from England, Aremo Adeniyi has carved his name in the annals of Ikorodu and broke new records as an elder statesman who earned a prestigious Fellow award of the Nigerian Institute Of Management.
Prominent Ikorodu sons and daughters gladly showed solidarity with the octogenarian as they accompanied him to the venue. His close brother and trusted fellow honourary Chief, Monzor Olowosago, Publisher of Oriwu Sun, gracefully attended the event. The immediate past chairman of IKODASS and erstwhile Clerk of the Lagos State House of Assembly, Honourable Ganiyu Abiru joined Aremo Adeniyi Ogunsanya at the MUSON Centre for the award event. Brothers of the awardee, Prince Adekunle Ogunsanya who was a former Central Bank of Nigeria boss in charge of logos; former Executive Director of Lagos State Internal Revenue Service (LIRS) and Federal Inland Revenue Service (FIRS), Faramade Ogunsanya with Alhaja Mujidat Adegbola Adelu Ogunsanya were present at the event. They were happy and provide emotional support to Aremo Adeniyi and her pretty wife, Modupe Ogunsanya throughout the programme. Honourable Ganiyu Abiru, who was excited about the event constantly posted update of activities as they unfold through the OriwuSun Whatsapp platform.