senator Adetokunbo Mukhail Abiru, the Senator representing the Lagos East Senatorial District, since his emergence a year ago, has ceaselessly been dazzling his constituents with various life changing and people-oriented programmes and gestures under his interesting catchphrase #DoingGood.
On Thursday, December 2, 2021, the Senator, who is the Chairman, Senate Committee on Industries, took his #DoingGood campaign to the Lagos State Polytechnic, Ikorodu main Campus, the venue for the maiden edition of the lkorodu Division Expo and unexpectedly put smiles on the faces of 20 Micro, Small and Medium Scale Enterprise (MSME) business owners with monetary grant.
The lucky exhibitors, who were taken by surprise by the lawmaker's gesture, were given N100, 000 each as support to grow their businesses. They were selected using some parameters, which included; residency of Lagos East, possession of a business account, must be an exhibitor at the Ikorodu Division Trade Fair, among others.
The grants, according to the Senator's Special Adviser on Media Publicity, Mr. Enitan Olukotun, is not to be paid back but to be used by the beneficiaries to expand their respective businesses. He added that the business owners were found to be in dire need of the financial support for the stability of their businesses.
Also, another 40 exhibitors were presented with 40 Business Knowledge packs, containing seven (7) business related books meant to enhance the capacity of the MSME owners.
The books cover subjects ranging from Financial Management, Marketing and Communications, Digital Technology, Tax Management, Strategy, Legal and Human Capital.
The Trade Fair was organized by the Ikorodu Chamber of Commerce and Industries (ICCI) in collaboration with the Lagos State Polytechnic and attracted businesses from across Ikorodu Division and beyond.
All through the Trade Fair, the office of the distinguished Senator Tokunbo Abiru identified with the organizers and exhibitors by setting up a stand that provided business advisories and support to participants.
Speaking further on Senator Abiru's monetary grant to the business owners, Olukotun said that the gesture was part of the lawmaker's interventions to support small business owners and help them in growing their businesses, make it lucrative, increase productivity and patronage, which will increase their capacity.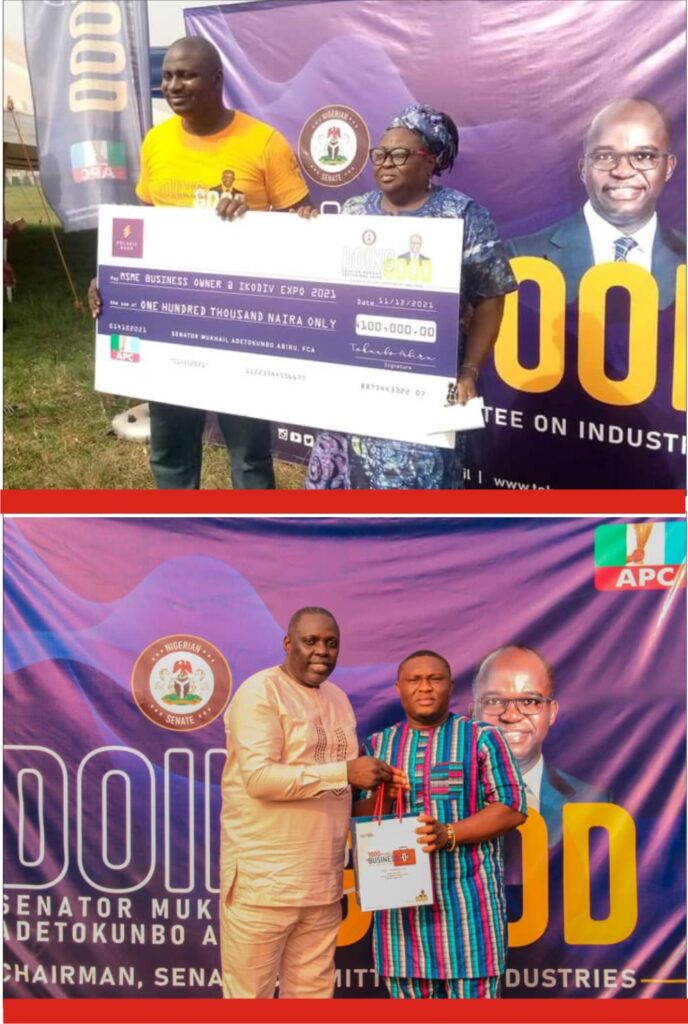 He added that it is through this that the business owners could employ the teeming youths who are unemployed and also contribute to the development of Lagos East Senatorial District, Lagos State and Nigeria as a whole.
Another aide of the senator said that literature books provided to some of the business owners are what they needed to grow their businesses and enable them develop the capacity to access bigger funding. "The tools that we are also providing for some of you will help you develop and expand your businesses and prepare you for access to bigger funding in the next three or four months," the aide said. "These business owners are not in need of a small amount to support their businesses but business knowledge to grow, and that is why we are providing them with these books to assist them".
Meanwhile, some of the beneficiaries, in their respective reactions, said that they were surprised by the monetary grant and commended the lawmaker for the support, describing the gesture as unprecedented in the history of Lagos East Senatorial District.
Mrs. Rukayat Akinpelu – Onabanjo, the Chief Executive Officer, Oga Event & Production, said that she only came to display her products at the fair and registered when she was approached by the Senator's aides but that to her surprise, she was called as a beneficiary of the monetary grant.
"I came to the fair to display my products and wasn't expecting anything like this and initially, when I saw Abiru's stand here, I thought that it was the usual campaign and when I was approached, I just put in for the grant and was going about my business. Surprisingly, I was told that I am one of the beneficiaries. Thank you Senator Abiru for the support. You are doing well," she said.
Mrs. Odukoya Aduragbemi, a rice farmer and a member of the All Progressives Congress (APC), was full of thanks to Senator Abiru, whom she said is a good representative. "I thank Abiru 'Bambam' for doing this great thing for us. He has put smile on our faces for the Christmas period with this support.
My support and campaign will always be for him," she assured the Senator. Another beneficiary, Mrs Anita Tele Oduloye, also expressed surprise at the support from the lawmaker. "I wasn't expecting to be one of the beneficiaries but I was told that a grant will be provided for my business, which I am very appreciative of. This would go a long way in helping businesses. I will use this money to get raw materials for my production. Ikorodu businesses will definitely appreciate this," she added.
Another beneficiary, Mrs Salami, said that she appreciated Senator Abiru's gesture to business owners at the exhibition and described the support as a big intervention for Micro, Small and Medium Scale Enterprise (MSME) in Ikorodu. Mr Allen Oluyisola, a 53-Year-Old male exhibitor and a beneficiary, who is also a student in the department of Computer Science, Lagos State Polytechnic, thanked Senator Abiru for the gesture and promised to always support the Senator in his future elections. "I will go out of my way to convince those who are close to me to do the same," the excited Oluyisola promised.
A retiree and Printing Press owner, Alh Olaide Oduloye, described Senator Abiru as a patriot. "With this gesture, I see our Senator as a patriot. It takes a patriot to want to support entrepreneurs with a whopping one hundred thousand naira the way he has done. He understands the economy and knows that it is the SMEs that drive the nation's economy. I say a big Thank You to our Senator". Similarly, a waste recycler and garbage bag manufacturer, Mrs Matilda Olatunji Taiwo, stated that, "Senator Abiru has added value to our businesses with this grant.
As the Chairman, Senate Committee on Industries, it shows he truly knows the challenges confronting micro manufacturers like us." Another beneficiary, a fashion entrepreneur, Mrs Adaobi Ngozi Owoto, who was also full of gratitude to Senator Abiru, promised to plough the grant into her business and expand it more.