There is no doubt that the administration of Hon. Wasiu Adeshina, Chiarman, Ikorodu Local Government, has recorded tremendous achievements since coming on board few years ago.
The administration, in its stride to further expand its coast of success, on Friday, August 24, 2020, flagged off the commencement of two major projects – the re-roofing of the Council's Secretariat and the rehabilitation of the Anibaba-Sholafun-Owode link road in Ikorodu.
In an interview with Oriwu Sun in his office, Hon. Adeshina said that his administration decided to rehabilitate the Secretariat to create conducive environment for the Council staff as a way of engendering productivity.
According to report gathered, the Secretariat, which was built in the early 80s due to the challenges of space at the old Secretariat located along Oriwu Road, Ita-Elewa, Ikorodu, had not witnessed any renovation since its construction more than forty years ago and it was also without good roofing.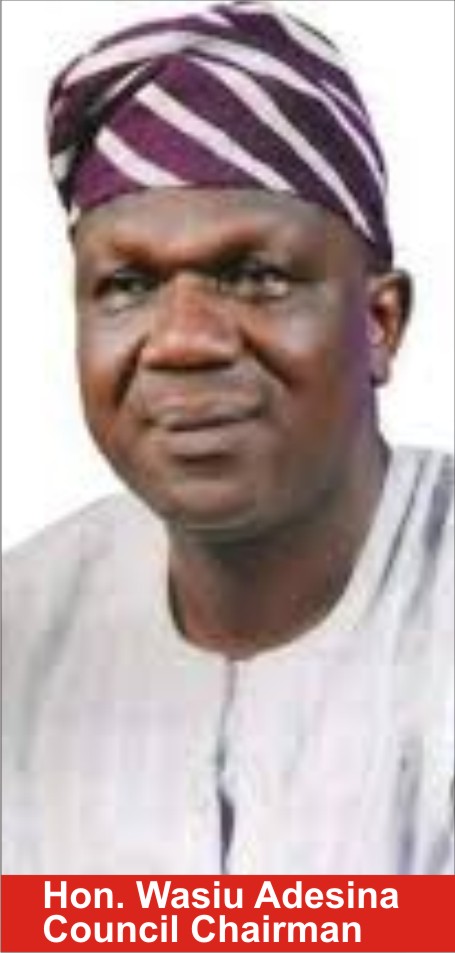 "The Secretariat is more than forty years old and it is without roofing. Aside that, we discovered that whenever it rains, water drops from the rooftop; thereby, rendering most of the offices unconducive for the staff."
"Therefore, this administration is of the view that for staff to enjoy conducive environment for better service delivery, there is need for roofing and beautification of the Secretariat, which will positively makes the environment more friendly and accommodating for all", he said.
Hon. Adeshina said that the rehabilitation work will include re-roofing, painting and beautification of the interior and exterior parts of the Secretariat and provision of office furniture, among others.
"We are going to re-roof the Secretariat and paint it, both the interior and the exterior, provide furniture for the staff, replacee the louvres windows with aluminum windows and also replace the wooden doors with steel doors".
He added that the rehabilitation work will take two months and when completed, it will give the Secretariat a beautiful sight to behold.
On the reconstruction of the Anibaba-Sholafun-Owode link road, the Council boss described the road as an important road, which needs to be put in good shape to serve the residents better.
He explained that the Council has already commenced the rehabilitation of the road and will put interlocking stones on its surface instead of asphalt. This, according to him, is to ensure its durability and also to make it motorable for the road users.
Hon. Adesina added that upon completion, the road will serve as alternative route for motorists and other road users to connect places such as Igbogbo road, Ota-Ona, Awolowo Way, Adaraloye and many others.
He disclosed that his administration is committed to embarking on several other people oriented projects before the end of his first term tenure.
According to him, major among these projects is the completion of the ongoing rehabilitation of the Ikorodu Cemetery along Ikorodu Sagamu road, adding that electricity, borehole, Staff Office and perimeter fencing will be provided at the cemetery to give it a new look and make it a conducive place to bury the dead.
When asked how he has been able to embark and complete so many projects compared to some of his predecessors and colleagues in Ikorodu division, who always complained of paucity of funds as reason for their under performance, Hon Adesina said that his administration is also faced with such challenge but that he decided to prioritise the projects according to their importance and committed the availability resources to them.
On the outbreak of COVID-19, Hon. Adeshina stated that his administration provided several safety measures and distributed lots of palliatives during the challenging period of the pandemic to ensure the safety and welfare of residents across the Council, while he also commended the Governor of the State, Mr Babajide Sanwo-Olu for his efforts in fighting and limiting the spread of the deadly virus in the state.
He urged residents to continue to adhere to all the safety protocols stipulated by the government in order to protect themselves against COVID-19.
The Chairman equally thanked the people of Ikorodu as well as party leaders and members for the staunch support given to his administration while soliciting for further support and cooperation.
Furthermore, he highlighted some of the achievements of his administration so far, among which are construction of six (6) blocks of toilets and perimeter fencing at the Salvation Army Primary School, Ikorodu; reconstruction of the Itunmoja pedestrian bridge; resurfacing of roads at Adeyeri Owuyo street, Molupa street; construction of drainages and resurfacing of the road at Benson Estate in Igbo-Oluwo, Ikorodu; construction of drainages and provision of Streetlights at Itamito, lkorodu; resurfacing and construction of Elepe road along Ijede road and Arowolo street and empowerment programmes for traders and artisans, among others.
Meanwhile, when our reporter visited the council, the roofing of the main Secretariat building was ongoing while most of the windows of the offices have been changed from louvres to aluminium.
Also, when Oriwu Sun visited the site of the ongoing rehabilitation of th