While the outside world revered Monzor Olowosago for his bold and audacious step in establishing one of the most successful community newspapers in Nigeria and Africa, his home people of Ikorodu may not see him through that prism.
In his Ikorodu community, Monzor is feared, hated, revered and misunderstood by malicious corrupt individuals who perceive his journalism as an impediment to their illicit activities in the community. In the last thirty five years of practicing community journalism in Ikorodu Division. Chief Monzor Olowosago has been on the vanguard of Ikorodu development and constantly roared at community desperados who attempt to rape Ikorodu. His job as the community watchdog has attracted hatred to him by enemies of Ikorodu Division, since then, divisive acts of threat on his life, physical attacks, blackmail and accusations have been thrown at him for exposing the ills in the community.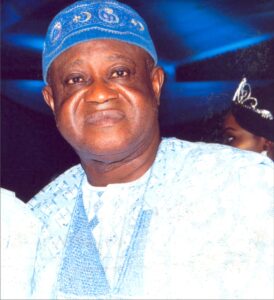 Yet, the London trained journalist has remained resolute in defending his motherland of Ikorodu for 35 turbulent years of community journalism. In this interview with Ramson Acheme, Chief Monzor Olowosago takes us through his struggles for a better community through community journalism.
Q: How would you describe your experience in the last 35 years as a publisher of the most famous community newspaper in Nigeria?
A: My experience has been interesting, wonderful, exciting and turbulent. Interesting in the sense that when I the Oriwu Sun Newspaper, I never thought it will last 35 years on the news stand, due to the nature of the community.
As a focused person, I knew the kind of community journalism I wanted to practice, that is the difference between me and others who ventured into community journalism believing that community journalism is very easy.
Some of them believe that writing good English is all that matters. Today, more than ten of them have phased out of business.
By the grace of God, I have been able to produce a community newspaper in Ikorodu which people are eager to read. Though, the people are eager to read our paper, they are not willing to place advert with us, except for some few friends and individuals who believe in me and wished to support the paper. My experience has been turbulent because I have in the cause of doing my job offended people who hate me, but the good thing is that some of the villains realised that I am objective and everything I write about is always in the best interest of our community.
For example, the lateAyangbure of Ikorodu, Oba Salawu Oyefusi, in 1985 believed I set up the Oriwu Sun to antagonize his reign because of the animosity between him and my late father. However, six years later, he realised the facts of what I was doing and changed his views about me and the paper, thereafter, he conferred on me the chieftaincy title of Baroyin of Ikorodu. There are many other similar cases like that.
Another turbulent moment was when I was attacked by the people in government for publishing stories which unveiled their shady deals. There were times I was attacked by the Omo oniles (land speculators), the armed robbers, cultists, hard drug pushers who would call me on the phone to warn me, when I refused to stop revealing their dirty tracks, they attempted to eliminate me. The interesting thing is that today, I am a happy man and will be clocking 70, and some of them have changed their perception about me and extended courtesy to me whenever we met.
Another interesting part of it is that I enjoy doing the job and I have a team of dedicated staff who have helped build the media house.
Q: Journalism job is very risky, and community journalism job is even more risky, how did you manage to survive the turbulent 35 years of publishing Oriwu Sun?
A: Community journalism is a more risky genre when compared to national journalism. In national newspapers, people don't know the reporter who writes stories but in community newspaper, people know you, your family and where you live. Like I said in many interviews, news is proximity and the closer you are to the events, the more exciting the news is.
The community people are around you and could verify your sources and take seriously what you write about them.
Many of them believe every other story in my newspaper are my thoughts and that Monzor wrote it all.
Only a few enlightened people know that only my column "Frankly Speaking" is about my opinion. Community journalism is risky and it is the future of journalism practice in the country. Publishing community newspaper in the last 35 years has been part of me, like I said earlier, God has blessed me with sound reporters and I have experienced reporters like Chuma Adichie, Kazim Ganiu-Sanni, Muftau Jimoh who on daily basis share story ideas with me.
We know what to do and how to go about our news stories, this has kept us out of trouble. Through objectivity and professionalism, we work on our stories carefully. We know what the people want and we publish interesting stories aided with colourful pictures. Another secret is that we enjoy patronage from the government which occasionally place adverts with us.
Q: When was the most challenging time(s) in the cause of publishing Oriwu Sun?
A: When we started, the most challenging issue were the attacks we faced from the cocaine boys. During that time, when I noticed that we are community press and not a national daily, I had to review my editorials to focus only on community interests.
Then, advertisement was another challenge, without it, no media house will survive. I constantly jostle to secure advert patronage from people and organisations. Like I wrote in my new book, "Practical Community Newspaper Reporting", which will be out soon, no media house will survive without advertisement.
The Punch, Vanguard, Guardian, Thisday, the Nation and other big national dailies are the champions of the day because they are having sufficient advert patronage. I thank God that since I started Oriwu Sun, I have been getting advertisements to cover my production expenses. I have been able to break even with marginal profit after productions. Aside the attacks left, right and centre, there are no insurmountable challenges.
Q: You seem to have live for Ikorodu Division by fighting for its development with your paper through editorials and grassroots stories, what inspired this great zeal for Ikorodu Division?
A: I was born in Lagos Island at Massey Street, I attended St. Peters Primary School, Ajele, Lagos, and Molusi College, Ijebu-Igbo. I travelled to the United Kingdom in 1972 and came back in 1977. It was while I was in London that I noticed there were so many community newspapers, so it was then I made up my mind that when I return home, I would establish a community newspaper in Ikorodu. I realised that my passion for Ikorodu could be achieved by establishing a local newspaper to facilitate its development. I briefly horned by journalism skill with media houses like the defunct Daily Express, the defunct Weekly Focus, Defunct Nationalist at Ijora and defunct National Concord where I was employed as a reporter and production editor after which I decided to start Oriwu Sun.
Q: There were occasions you have been attacked physically for publishing stories which exposed fraudulent practices in the community. For example, in early nineties, you were beaten and left for dead when you published gross fraud in the government council affairs, why didn't you cow in and hide for your life since then?
A: There was this zeal in me since the beginning of my career. I knew that journalism is a risky profession, I was resolved to forge ahead. When the attacks started coming, I had to keep publishing but adopted new styles and methods. I started focusing on community activities and reviewed my editorial policy. Today, the paper is a household name in Ikorodu division and we have not seized to publish.
Q: What are your aspirations for Ikorodu Division?
A: My aspiration for Ikorodu Division is development. Unfortunately, things are slow due to the shady activities of our greedy politicians, with the exception of few men like Senator Adeseye Ogunlewe, Prince Abiodun Ogunleye. If they have put hands on deck, we would have grown more than we are today.
My passion and purpose of setting up the newspaper is for development. There are occasions where I have gone out of my ways to contribute to the infrastructural development of some areas in Ikorodu. For example, I built a block of classrooms and toilets for the Federal Low Cost Housing Estate Primary School, Ikorodu.
Q: You have been the only community newspaper in Nigeria which have successfully been on the news stand for 35 years, what are you doing differently from others?
A: One, I am a very aggressive person, a trained journalist and a reporter to the core, a production editor. I have never done anything in my life than journalism. Most publishers of community papers have no idea of newspaper production process and they have no clue of what they should really do. I get fully involved in the entire process of newspaper production. I source for advert, gather news and edit with my staff, plan pages, distribute and monitors the circulation. Though, I have been approached to kill stories, I never accept bribe to do so, the worst I will do is to step the story down. I source for adverts from people who approach me. With the regularity of my paper on the news stand, professional production impute and high quality production, I have remained in business for years. Others failed because most of them can't plan pages, their stories often lacked proper page planning. With all modesty, I can say I am a good page planner and that has helped sustained my paper. Over the years, many papers have phased out of business because they lacked all these attributes I mentioned.
Q: What is your happiest moment in this job?
A: My happiest moment in the cause of publishing is whenever an edition of my paper is out and it goes round in circulation. I am always happy when people comment on the stories. Recently, a friend called me on the phone to congratulate me for publishing a sixty four page edition during the Covid-19 lockdown.
Another happy moment for me was when I get bumper adverts from the government.
Most times when governors ask me what I need, I always tell them I need advertisements and they will respond by placing some with us.
The paper has become my hobby, I work weekends, during public holidays, even when I travel. I spent my daily hours working on the paper. I work on an average of 14 hours every day and often wake up in the middle of the night to work. People don't see all that, what they see and talk about is when I attend parties.
Q: What is your advice for young people who wish to establish a community press?
A: With the availability of the Information Technology and Communication (ICT), it is now very easy to set up a community newspaper.
What they require to start a community press is a small office space, computer (laptop or desktop) and have an aggressive mind.
They may start with few pages like 8 or 16 pages, but must not compromise with their editorials.
They must possess journalistic knowledge, work with good graphics editors/designers and ensure to be regular on the newsstand.
New starters must strive to break even with cost of production. They must always ensure that marginal productivity is attained by making a profits after deductions of production costs.
There are many news stories abound in the community, but proper management, quality production and adverts will enable them attain the level of a local champion like the Oriwu Sun. Please, avoid competing with the national dailies and focus on your immediate community with 90 percent of your contents about the community while the remaining percent can be used for national stories.
Q: What are the challenges you encountered with Ikorodu politicians?
A: Again, that's a very good question. While some of the local Ikorodu politicians like me, most of them hate me with passion. I don't blame anyone because such is the dilemma of a journalist, a topic I wrote an article about in my column coming out soon. The fact is some of our politicians are bad, while some are good. When you write a story in their favour or in support of their activities, they will praise you and regard you as the best journalist. But when the story reveals their crooked ways, they regard you a bad journalist. I am not always perturbed because I am familiar with how politicians react. Some of them see politics as their meal tickets which is the reason they will do everything, including committing heinous crimes to stay put in political office.
One of them once told me that the easiest way to make quick money is to be in government. When I look back, I ask myself, apart from TOS Benson and Adeniran Ogunsanya, what have most of our politicians brought to Ikorodu other than scramble to Alausa to scavenge for government largesse? All they do is buy land properties in choice places and drive around town in flashy cars so that people will hail them. Vanity upon vanity.
Q: Over the years, you have been on the vanguard of development for Ikorodu, what has been your greatest achievement on behalf of Ikorodu Division?
A: My achievements are getting government's attention to our poor infrastructures in Ikorodu, exposing crimes in public coffers and calling attentions to the bad roads. Oriwu Sun has gotten government's attention to infrastructure decay and various governments have responded to some of our publications by fixing the facilities. There were times like when we wrote on the NITEL issue in Ikorodu, the Oriwu College dilapidated block of classrooms and many more which all received immediate government attention.
Q: Who are the people who helped Oriwu Sun survive through the years?
A: Individuals who helped Oriwu Sun to survive through the years are numerous but those who contributed the most include the chairperson of Oriwu Sun, Wing Commander (rtd) Adebukola Dawodu who has since inception gave so much support. Aside the financial support, she always pamper me like a son, even now that I am about to clock 70. The other person is my wife, Abiodun Dawodu, without her cooperation things would have gone awry. In spite my naughtiness and stubborn approach, she kept supporting me.
I would say not all help are about money, there have been some individuals who gave me moral support.
These people are always there for me, for example, Otunba Akin Awomodu met me for reason best known to him and has since then decided to constantly place advertisements with us and volunteered to help us buy newspaper equipment for my company. He is God sent, as most times he would tell me "I like your paper." He has never seized to patronize me with adverts. On one occasion when my newspaper house was burgled at night, without telling me, after reading about the incident in the newspaper, my account was credited some amount of money. When I received the alert for the money and I called my account officer for explanation, I was told that the money was from Otunba Akin Awomodu. I called him to ask if he wanted to place advert with us, he said no and explained that he decided to send me a token after reading about my burgled office.
I can't explain why he has been so nice and supportive over the years. Another fellow is Bashorun Tajudeen Jaiyesimi. Though, he lives in Lagos Mainland, he believes in me and loves my paper to the extent that he buys between twenty to fifty copies every month in the last few years.
He also goes out of his way to facilitate adverts for me through his friends in Lagos. He is a good brother that I will continue to cherish. Another individual I can't easily forget is Alhaji T. S. Animasaun. He believes in me and has continued to cater for my wellbeing and success for more than 20 years we have been sharing bed space and room in Makkah. He has been a pillar of support for a long time now.
Others include my blood brothers Bayo, Morufu, Dammy and Suraju, they are my affinities who are passionate about my newspaper and are always there for me. The past governors of Lags State including late Mike Okhai Aikhigbe, Raji Rasaki, Buba Marwa, Asiwaju Tinubu, Raji Fashola, Akinwunmi Ambode and the incumbent Babajide Sanwo-Olu have all played major role in supporting the Oriwu Sun. Mr. Ben Akabueze, who was Commissioner for Budget under Tinubu and now, Director General at the federal level, helped us during his service in Lagos. Deinde Lukas, former Managing Director of Lagos Building Investment; Dr. Ade Dosunmu, former Director General, NIMASA; Alhaji Mutiu Gbajumo, Babatunde Rotinwa, Bolaji Cole and many others have helped immensely. Without these people, the paper wouldn't be what it is today.
Q: People in the town often accused you of been a womanizer, is this true?
A: The question is, have you seen any man who doesn't like women? Again, I will ask you to show me a successful man many women don't throw themselves at. There is a recent interview where a female journalist asked the Oba of Lagos how many women he has. Oba Akiolu replied by asking the reporter if she has seen any wealthy man women don't flock around.
The monarch even admitted that he likes women and currently has a heartthrob in the judiciary. You see, there is no sane man who is physically fit and that would not get the attention of women, especially when he is successful. As for me, I like women and I love being with women but the truth is that you don't go to bed with every woman you love. I have many platonic relationship with women with whom I compare notes and no string attached. Being a socialite, I had causes to hang out with women but people often misunderstand my public appearance with women by believing that I have affair with every woman they see with me in public. But then, that is the price you pay for being popular. But today, I am proud to say that I have only one wife and five children. As you can see, I am happily married.
Q: Would you say you are a fulfilled man today?
A: I would say yes, I am a fulfilled man. At 69, God has been very good to me, since my childhood, I have never experienced poverty. I want to thank God for keeping me safe and alive till this moment, by next year, I will be 70. My wish is that God grant me good health and long-life to enjoy the fruit of my labour. I am a fulfilled man because I have carved my name in the history of community journalism in this country. There is no way community journalism in Nigeria will be mentioned without making reference to my name. It is not by my strength but by the grace of God that things have worked for good. My resolution today is that I have forgiven everyone who offended me and I ask for forgiveness from whomever I have offended in the cause of doing my job. I will not hurt anyone deliberately. So far, so good, I have no regrets publishing a community newspaper.