Encomiums and positive emotions ran high in General Hospital, Ikorodu, on June 11, 2020, as the management and staff organised a befitting send-forth party for the immediate past Medical Director, Dr. (Mrs). Adenike Odubiyi.
More than one hundred staff of Ikorodu and Ijede general hospitals gathered at the second floor of the hospital building to celebrate the hardworking woman who just retired from a meritorious health service.
The occasion was well attended by people from different strata of the society as staff, former patients of the hospital, government officials from the Lagos State Ministry of Health and past executives of the hospital gathered to celebrate the hardworking health officer.
Past and present medical directors of the general hospital also joined their colleagues to celebrate Dr. Odubiyi at the farewell party.
Permanent Secretary of the Lagos State Ministry of Health, Dr. (Otunba) Ademuyiwa Eniayewun who was present at the event, was happy for the celebrated immediaye past medical director. The permanent secretary praised Dr. Odubiyi for her outstanding performance, stating that her brief stay was like many years of working at the general hospital.
In attendance was her husband and a doctor son. The occasion was an enjoyment galore for staff as food and soft drinks were served to everyone who attended, while light music played from the background as people cheered and talked about the retiring medical director.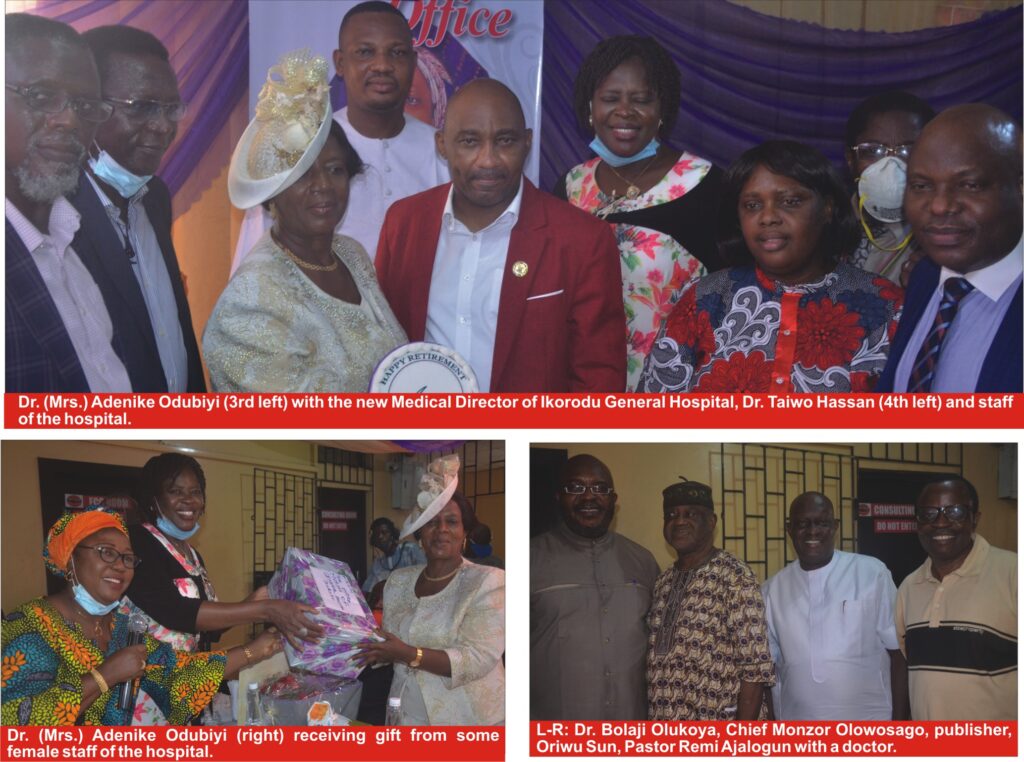 Publisher of Oriwu Sun, Chief Monzor Olowosago who spoke at the event, praised Dr. Odubiyi for all the good jobs she has done in a short while in the hospital.
The publisher described her as a perfect example for other bosses to emulate.
The permanent secretary of the Lagos State Health Commission was not left out as he gave a long speech about the celebrated woman. He encouraged the incoming medical director to emulate Dr. Odubiyi. He added that he believe Dr. Taiwo Hasan will perform to expectations because he is in a familiar terrain.
Some of the staff who spoke with Oriwu Sun said Dr. Odubiyi is like a family member to them. They explained that she would be remembered for her wise counsel, dedication to duty and her ability to solve their problems.
The party lasted for few hours and was well enjoyed by the well-wishers with light music and snacks to nibble on.
But for the covid-19 restriction policy, the entire hospital premises would have exploded with population of well-wishers, most of the staff believe.
Some of them added that it is good for a boss to be nice and do well wherever he or she works, citing the outgoing medical director who barely worked in the general hospital for five weeks before retiring, yet she won the hearts and loyalty of many people in the hospital.
They wished the retired medical director, Dr. Adenike Odubiyi, good health, long life and prosperity.