After successfully spending two terms of ten years as the Education Secretary of the Local Government Education Authority (LGEA), Ikorodu, during which he managed the affairs of about 64 primary schools across Ikorodu division with distinction, Lion Austen Taiwo Oduloye, on Friday, January 24, 2020, retired from service amidst praises and commendations.
Oduloye was appointed as Ikorodu LGEA Education Secretary in 2010 by the six Council Chairmen in Ikorodu division at that time led by the late Chairman of Ikorodu Local Government, Alhaji Sherif Anipole. As a way of celebrating his meritorious service and successful tenure, a befitting Pen-down/Retirement party was held in his honour at the Teacher's House, located within the premises of Methodist Primary School, Ikorodu.

The memorable event was attended by traditional rulers, political leaders, retired and serving Education Secretaries, Baales, Teachers, Religious Leaders, as well as family members, club members, friends and well-wishers, who had turned out enmasse to celebrate the retired top Education Officer.
It was indeed an honour well deserved for Oduloye as several guests and dignitaries took turns to shower praises and commendations on him for the immense innovations and achievements that Ikorodu LGEA recorded under his exemplary leadership. First to speak was Chief Ayodele Elesho, the Agba-Akin of Ikorodu, who represented Oba Kabir Shotobi, the Ayangbure of Ikorodu, at the event. He described Oduloye as an experienced Education Officer, who has performed very well in bringing tangible development to primary schools across Ikorodu division. On the appointment of a successor to Oduloye, Otunba Elesho assured the residents of Ikorodu, especially Teachers, that various interests concerning the appointment of the new Education Secretary will be harmonized soon.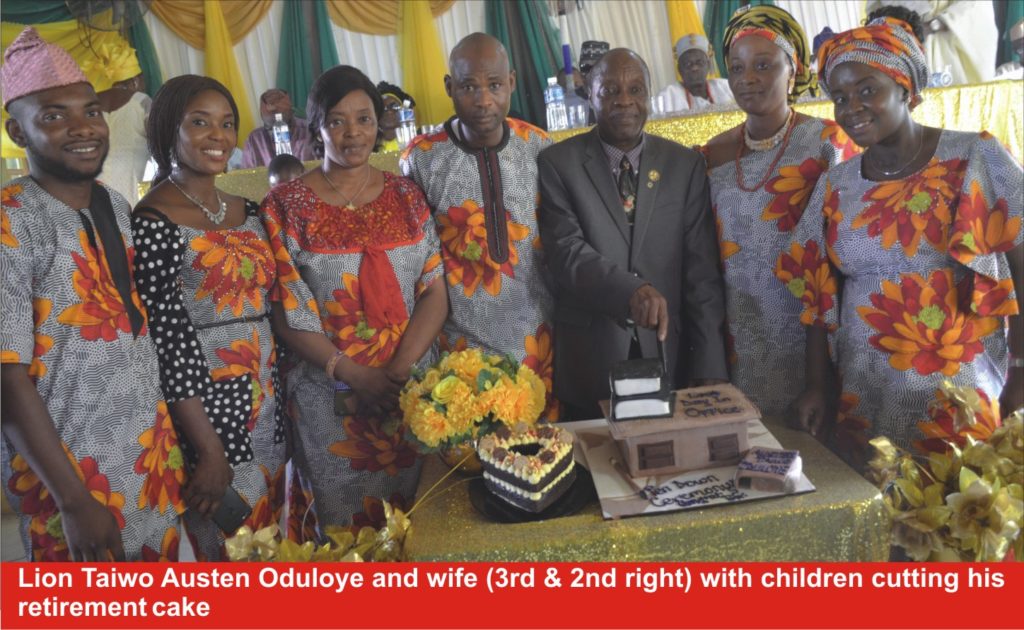 "We are working towards harmonizing the list currently; we have four nominations with SUBEB and the fifth one is germinating," he stated. "SUBEB does not have the power to appoint for us. The Local Government will appoint and send nomination to SUBEB and not otherwise." He stated that the issue of who will eventually be appointed to lead the Local Government Education Authority will be resolved at a round table, where a capable hand will be picked to sustain the good work of the immediate past Education Secretary."
"What is important is to have a good successor to Austen Oduloye. If we have that, whatever he (Oduloye) might have done in office would not be destroyed. That is the essence of it," he said. "Ladies and gentlemen, we want to assure you that we are preparing for the arrival of the Ayangbure and after he arrives, we are going to sort things out. For those of you in LGEA, continue to do your job and do it appropriately. I am sure that the Director of Admin. will stand in as the acting Executive Secretary. Do your job effectively and efficiently and by the grace of God, things will work-out well," Otunba Ayodele added.
His Royal Majesty, Oba Bakare Ajibade Agoro, the Ranodu of Imota, described Oduloye as a veteran Teacher and Administrator worthy of celebration. "I have come to celebrate a veteran in the teaching profession because, if not for the teachers, I would not be where I am today or be a Chartered Accountant. I am very proud of the teachers and that's why I am here today," the Royal Father stated. "Austen Oduloye is somebody that took the position of the Education Secretary with all the humility in this life. I have asked him to do many things for me without him hesitating."
Also, Comrade Oluwafemi Fakolade, the current Ikorodu NUT Chairman, in his goodwill message, congratulated the immediate past Education Scribe for improving primary education in Ikorodu division and the massive support rendered to the NUT. "I congratulate Mr. Oduloye for a successful tenure and we are glad that he has brought his retirement ceremony to Teachers' House. He actually started what today is an edifice that we are all proud of because he granted the union the permission to construct the Secretariat," Fakolade recalled.
"He was part of those that built the union that we are enjoying today while he was a Teacher. If there is a way to extend your term, we would have begged the government to give you one more term but no matter the years that we serve in an office, we must leave one day. You served with human face and for us in the Nigeria Union of Teachers, we see him as a friend. The generator that is powering this hall was donated to us by the outgoing Education Secretary. Thank you for being our friend, role model and a good father."
Meanwhile, Oduloye in his address, commended the State and Local Governments for appointing him to serve two terms. "We have put in our best to place Ikorodu on the map of Lagos State and Nigeria as a whole. Ikorodu Local Government Education Authority is one of the twenty LGEAs in Lagos State established primarily to administer the primary education at council level. The focus is to oversee the daily activities of all the Nursery and Primary Schools in these areas. The Ikorodu LGEA has 63 primary schools and last week, we had an additional one, which is Idera Nursery and Primary School situated in-between Odogunyan and Agbede communities. The school would fully take off on January 17, 2020 of this month", he stated.
"In that area, there is no public school at all and I am so happy that the dream has come true. There is another one coming up at Olu-Odo and that may start operating in the next two months. "He commended the SUBEB and FUPEB for ensuring infrastructural developments in primary schools in Ikorodu division. "I wish to commend the Lagos State Universal Basic Education Board (SUBEB) and Federal Universal Primary Education Board (FUPEB) for their joint infrastructural renewal in most of our primary school which, when visited, can compete with any private school. They constructed 17 plus I and 13 plus 1 classrooms," he stated.
As some of the schools that were given facelifts in Ikorodu during his administration as Education Secretary, Oduloye listed Jogejoye Nursery and Primary school, Ojokoro Agodo – Alara, African Primary School, Erikorodu, Agodo-Alara Nursery and Primary school, Agodo-Alara, Methodist Primary School Gberigbe, Anglican Primary school, Isawo, Community Primary School, Abule-Eko, Community Primary School, Mowo-Nla, Estate Primary school, Ikorodu, Local Government Primary School, Isiu and Omolaye Primary school, Agbede,
He appreciated individuals and groups that also contributed to the infrastructural developments in the primary schools, particularly Chief Monzor Olowosago, Publisher of Oriwu Sun, who donated a block of six classrooms and toilets at the Estate Primary School, Sabo, Ikorodu, while he also commended the State Government for training of teachers and for the food feeding project, which he stated would improve enrolment and enable pupils to have good nutrition. "I wish to appeal to LSUBEB for the renovation of LGEA complex as well as some of our schools in Ikorodu. The school also needs more Teachers."
The highpoint of the event was the official signing off from service by Oduloye, after which he handed over the mantle of leadership of the LGEA to Dr. Olumide Fasaakin, The Head of Human Resource and Administration, who will act in his capacity till another Education Secretary is appointed. The session was co-ordinated by Mrs. Anthonia Balogun, Director of Quality Assurance, TESCOM.
Others at the event were: Sen. Adebayo Osinowo, represented by Primate Charles Odugbesi; Mrs. O. O. Benson, former Chairman, SUBEB; Chief Olukayode Shoderu, Chief Ajayi Bembe; Mr. N. A. Adebiyi, Permanent Secretary, Ministry of Physical Planning; Otunba Saheed Ibikunle, member, LSUBEB; Mr. Adeleke Kara, member, Lagos State Teaching Service Commission; Hon. Kunle Ogunbela, former Chairman, Ikorodu North LCDA; Hon. Gbenga Basanya, former Chairman, Igbogbo/Bayeku LCDA; Alhaji Musiliu Animashaun; Chief Monzor Olowosago, Publisher Oriwu Sun; Mr. Wale Adeogun, Chairman, Association of Retired Education Secretaries in Lagos State, and Asiwaju Lateef Oduguwa, former Chairman, Nigeria Union of Teachers (NUT) and Association of Primary School Head Teachers of Nigeria (AOPSHON), among others.