Chief Sunday Ogede, the Olotu (Head) Lasunwon Ruling House of Ikorodu, has joined his ancestors. He died around 12:40p.m on Saturday, February 8, 2020. He was 82.
Chief Ogede, a man described by many as custodian of Ikorodu culture, was the leader of Lasunwon Ruling House. The aboriginal family who currently has one of its descendants, Oba Kabiru Shotobi, as Ayangbure of Ikorodu.
Oriwu Sun visited his Ebute residence on Tuesday, February 11, where our reporters met family members, friends, associates and other sympathisers who had all come to pay condolence visit in honour of this illustrious son of Ikorodu.
In an interview with Oriwu Sun, his wife, Mrs. Dorcas Adenike Ogede, said her husband died at Gbolakunmi Maternity Hospital, Agric, Ikorodu, after a brief illness.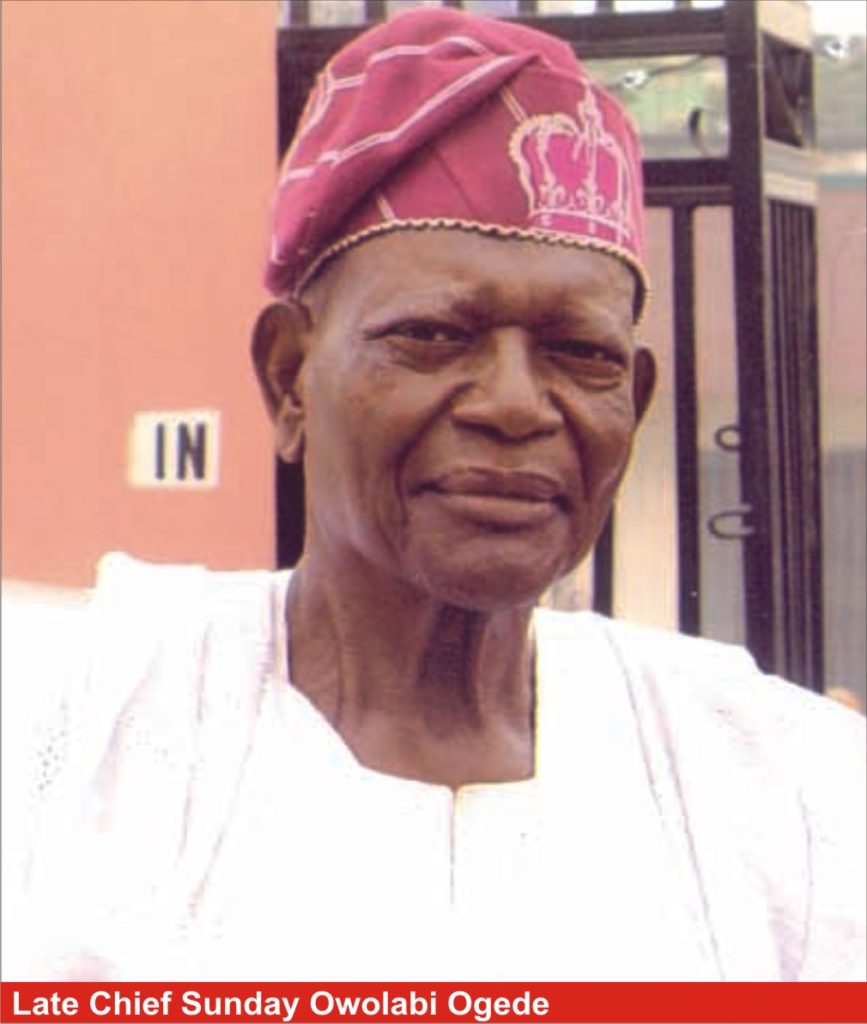 Mrs. Adenike Ogede, who had been married to her husband since 1962, described him as a man who hated lies and idle people.
Though he could be stubborn, he was described as a man with a large heart and cares for people. The widow explained that her late husband had a soft spot for intelligent people and gives things to people in need from the little he had. Mrs. Dorcas said her late husband has a rare gift of making peace among feudal family members. Though he may flair up at issues, he had an innate gift of finding ways to bring people together.
Some family members around the wife testified that late Sunday Ogede was an active influencer of people. He was a highly respected by family members, friends and business associates. Mr. Gabriel Ademola Fakoya, a family member and close friend described late Chief Sunday Ogede as a man with sound memory, he said as at the time of his death, Chief Ogede still vividly remembers every stories he had shared with family members. "He was a living history among us, he knew our histories and family folklore about every major families in Ikorodu.

I am always amazed at how he would narrate stories and will repeat the same narration months later without changing the details." Fakoya said the late chief had a photographic memory and could present great information on Ikorodu cultural and family lore. He regret not documenting all the information gathered from him when the chief was alive.
Secretary of the Lasunwon Ruling clan, Odofin Adegboyega described late Sunday Ogede as an upright, honest and no-nonsense man. "Since he assumed his duties as Olootu of the Lasuwon Family in 2014, he has been transparent and honest with everyone.

Under his leadership we have enjoyed transparency and honest dealings. His death has created a vacuum only an honest man can fill." Odofin Adegboyega recounted. His demise is described as a great loss not only to the Lasunwon Ruling House, but also to the entire Division because a custodian of Ikorodu history and culture has passed on. Some believe the legacies of honesty and transparency exemplified by late Ogede must be sustained by his successor.
Notable dignitaries of Ikorodu and representatives of corporate bodies met at his residence to pray for the departed soul and sympathized with the widow. Assorted cars were packed at the gate of his Ebute residence, as people of affluence signed the condolence register. Late Chief Sunday Ogede is survived by wife and a son who resides abroad.